Linking Documents in Bulk & Free Product Demonstration
Link a large batch of documents
Friendly suggestion: Name your PDFs (as-builts, inspection reports, etc) = unique asset name. Why?
Because if you do - we can easily upload and link those documents to your CSDatum mapping in bulk. This could save you countless, agonizing hours of manual data entry.
Here's a good example of how this can work.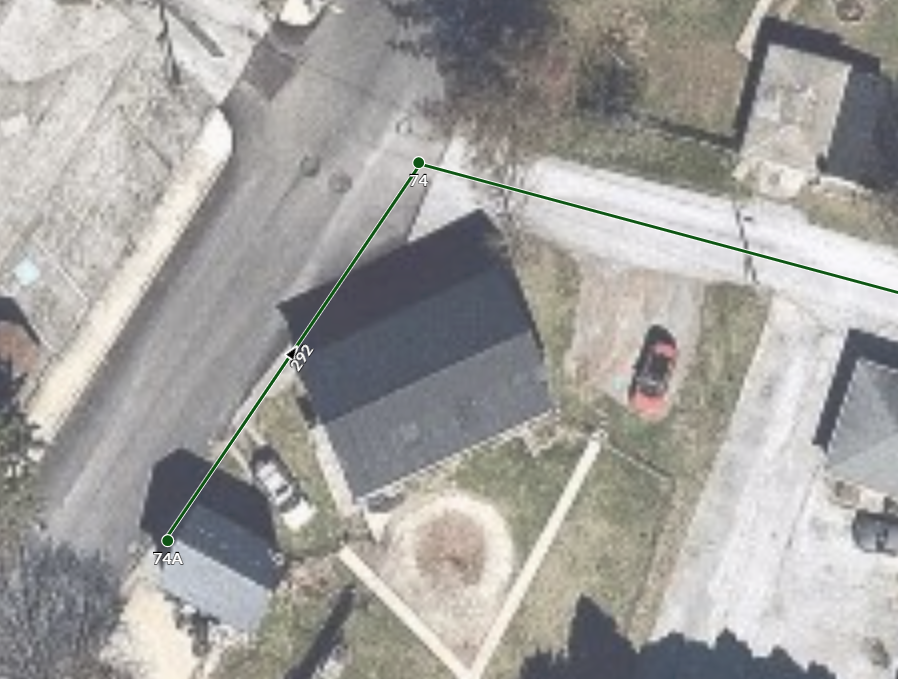 In the above picture - you'll notice the sanitary sewer line (#292) runs from Manhole 74A to Manhole 74. So if you have an old construction drawing or a CCTV report for this line - simply name your scan like so:
74A-74.pdf
or
292.pdf (this scenario is less likely - as most of you haven't 'named' your linework)
This might seem obsessive-compulsive or neurotic - and maybe it is...but it allows us to work quickly with your data; particularly when working with thousands of documents! If named correctly, in a matter of minutes, everything can be linked to the correct line or manhole in CSDatum!
When you open the attachment section for line #292, you'll see this: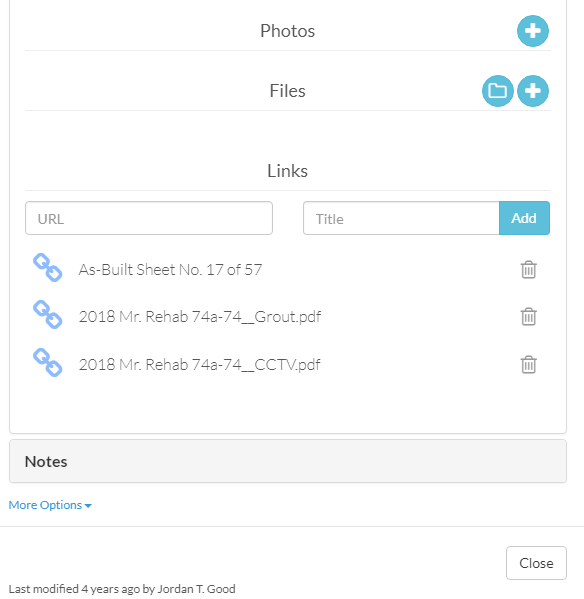 In this real example, Mr. Rehab - a sewer cleaning, inspection and rehabilitation firm in Mechanicsburg was able to export their CCTV/Grout reports into individual sewer line reports. They shared the files on Dropbox with us and ABRACADABRA, everything was linked shortly thereafter..and a big shout-out to Arthur Fad Jr. @ Mr. Rehab for making this happen. So don't scroll thru hundreds of pages in one PDF or browse thru thousands of PDFs on your computer - get the file you need, immediately.
So if you have questions about how to name your data or want to get started with a bulk upload, just send us an email.
---
In a similar vein, we recently saw a presentation by Rusty Hesselschwardt of Advanced Rehabilitation Technology on their OBIC liner system. This spray-on technology is ideal for relining manholes, wet wells, culverts and large wastewater structures.

Rusty has offered to perform a free product demonstration to our clients, so if you have a problematic manhole and want to see their product in action, give it a try! We have no affiliation with the company but if it helps manage your infrastructure, we're happy to make the connection.
Feel free to contact him directly at 567.239.6146 to schedule or as always, let us know.