Build your own Inspection Form
Custom Inspection Forms
If you attended one of our recent breakfast events, you heard me talking about the upcoming release of our custom inspection forms. This took us much longer than we anticipated but we're excited to get this in your hands. Every user with an Editor permission has the ability to build their own form for ANY asset within CSDatum. The published form is then available for use in the field. Think of all those inlet, manhole, building occupancy, playground equipment, junkyard, grease trap, road walkability, turf field, rental property, pump station and curb ramp inspection forms you've sent us over the years. These were all great forms - but we had to build them for you. Now? You can build & maintain them exactly the the way you want.
What follows is a step-by-step guide for creating, publishing and using a new inspection form:
1. Navigate to any asset on the map and browse to the Inspection panel. Click on 'Start Inspection' and then 'Manage Templates'.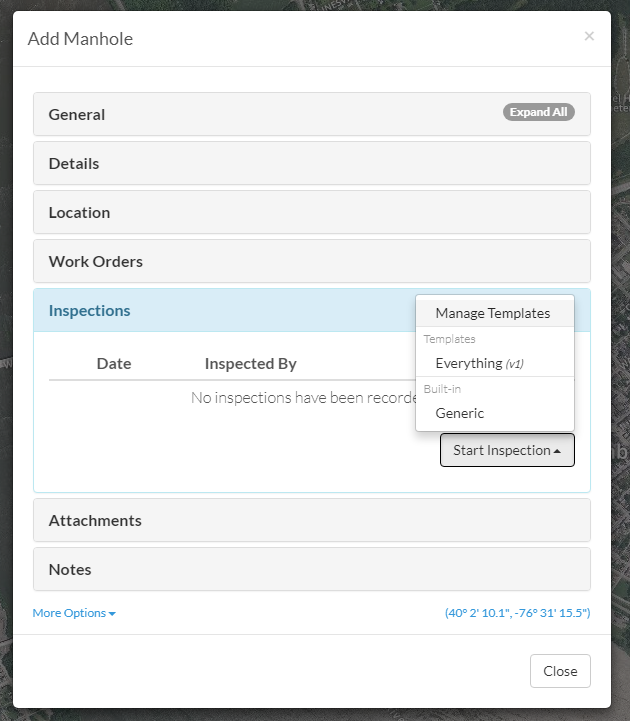 2. A 'Custom Templates' pop-up will appear. This will contain all of the available inspection forms for searching/creating/filtering/publishing/archiving.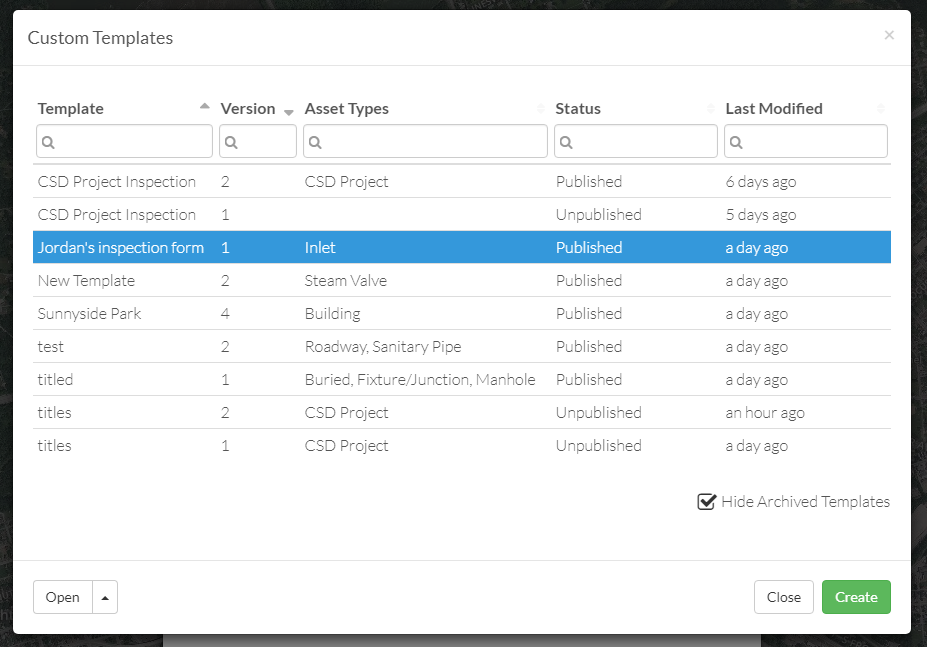 3. To make a new form, click on the 'Create' button in the lower right corner. A pop-up (shown below) will appear. Title your form and associate the inspection form to one or multiple assets. In this example, I'm creating a sanitary sewer manhole inspection form so it should only be available for that asset.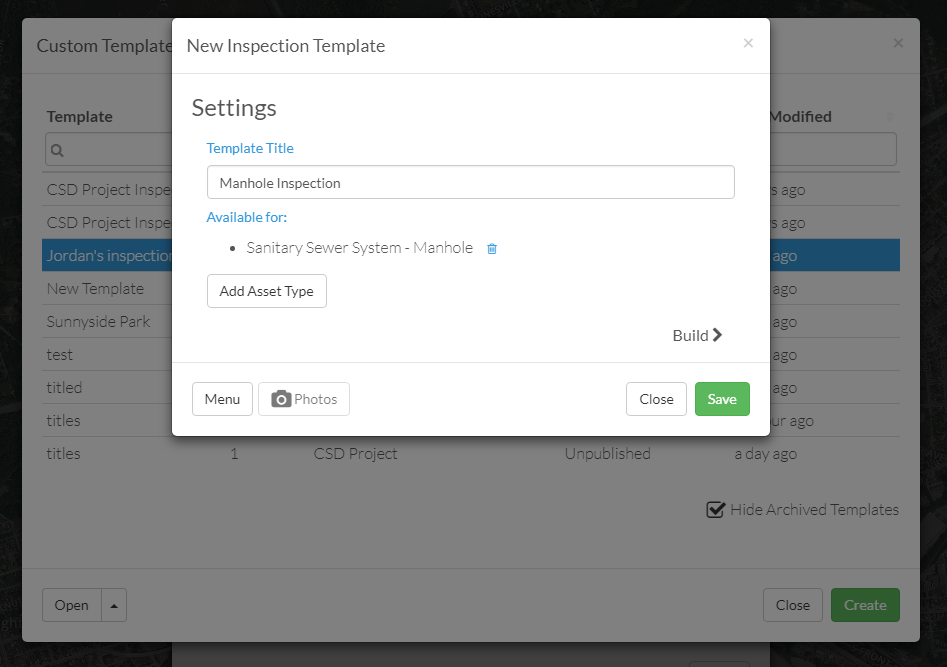 4. Click on the 'Build' hyperlink to advance to the main menu screen. This displays the overall structure of the form you'll be creating. Click 'Next' to proceed.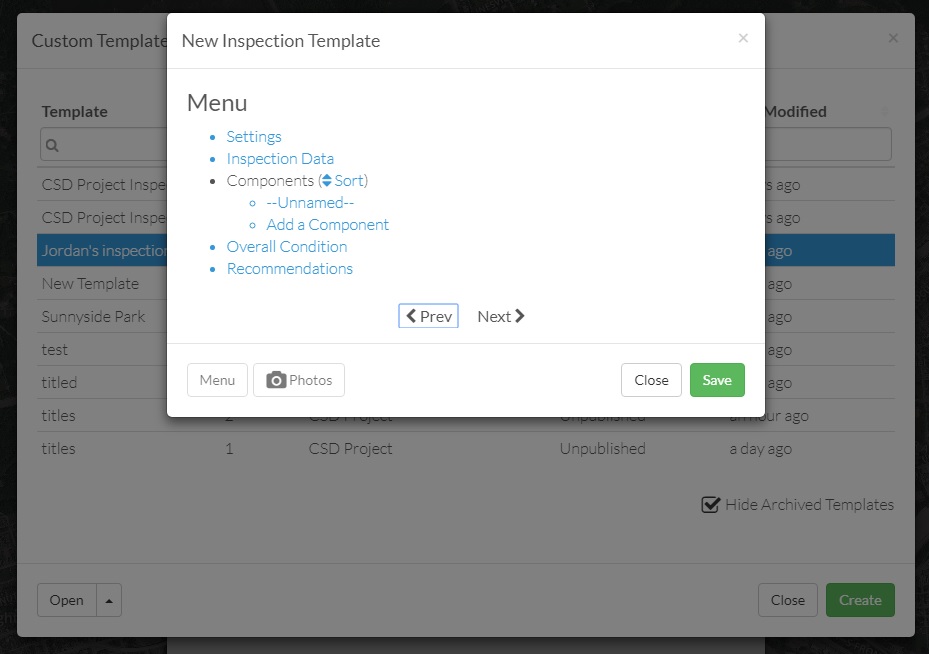 5. The first screen you'll encounter cannot be modified (for hopefully obvious reasons). This contains the Inspector name, date, time and weather conditions.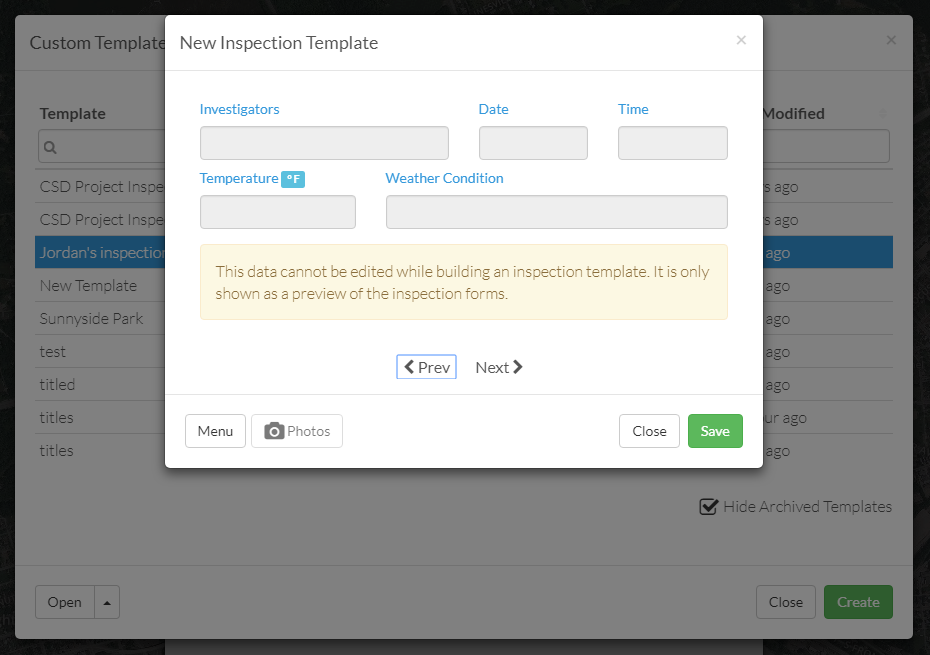 6. Here begins the real customization - as you're now able to title your component (or heading). You can also decide to have a condition assessment dropdown for this category....and enter your specific input fields.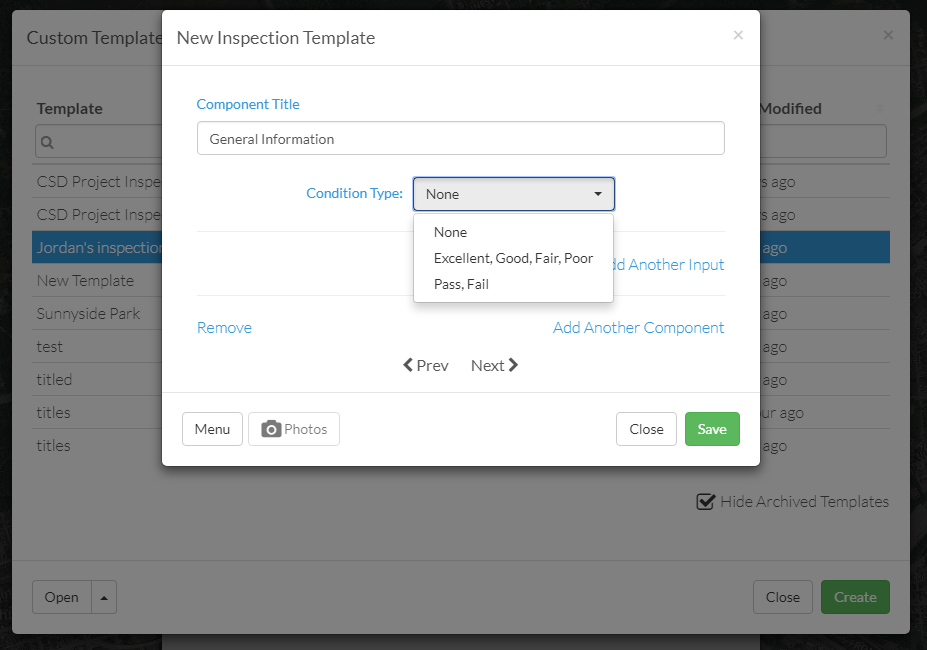 7. In the example below, I titled the first section 'General Information', decided against a condition dropdown and created a number field for Manhole Number. New fields can be added by clicking on the 'Add Another Input' hyperlink.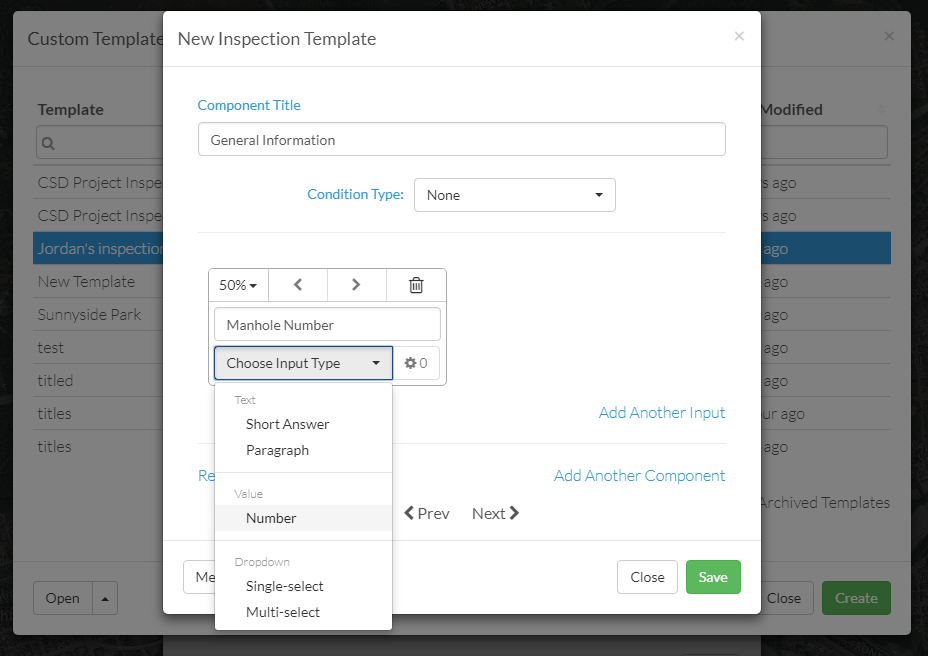 8. As you can see - I've also chosen to enter a 'Multi-Select' dropdown for material type. This will allow the inspector to pick several items in the dropdown list.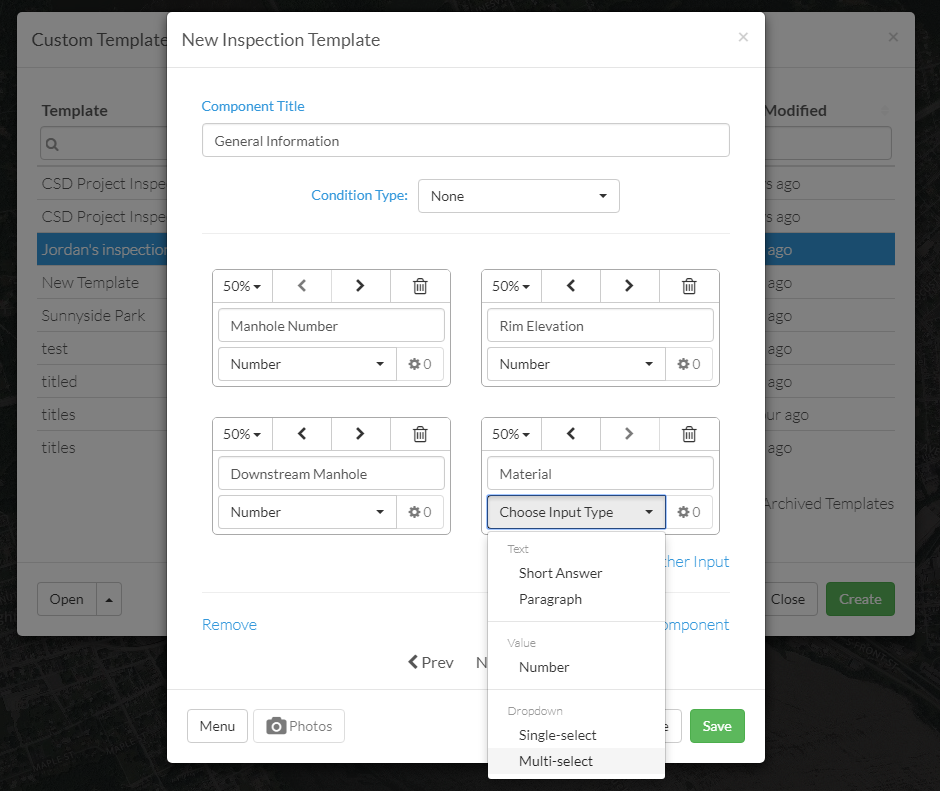 9. By clicking on the gear icon - you can build your own dropdown list of choices.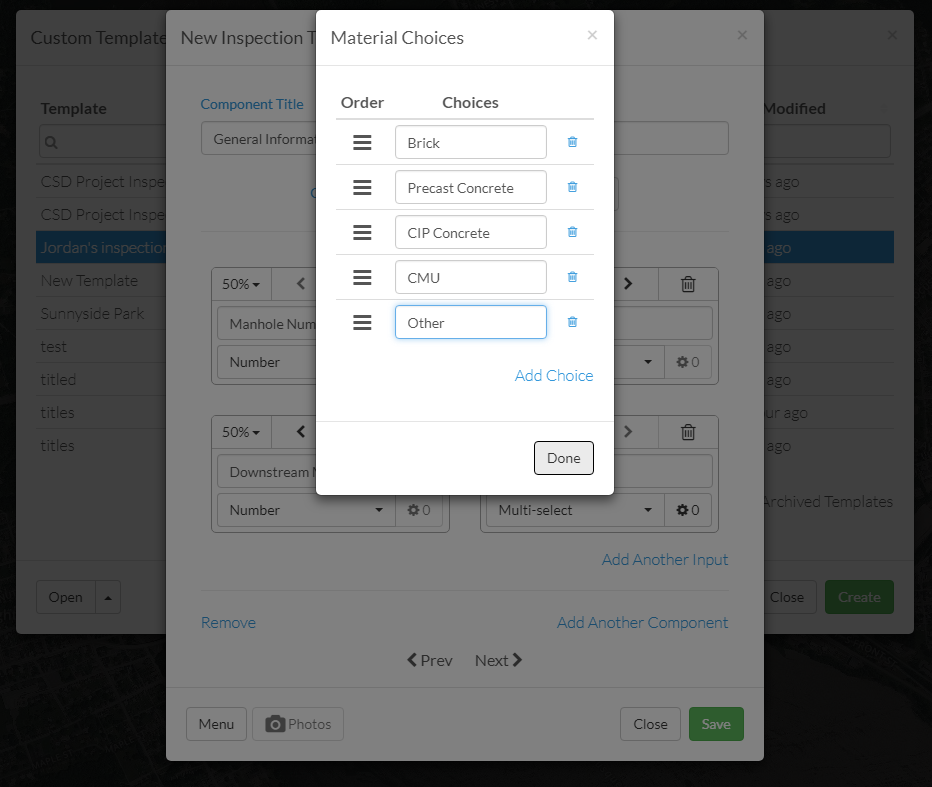 10. Once you're happy with the input fields for your first section, you'll probably want to add another section. Click on the 'Add Another Component' hyperlink. You can always go back and edit later if you forgot something.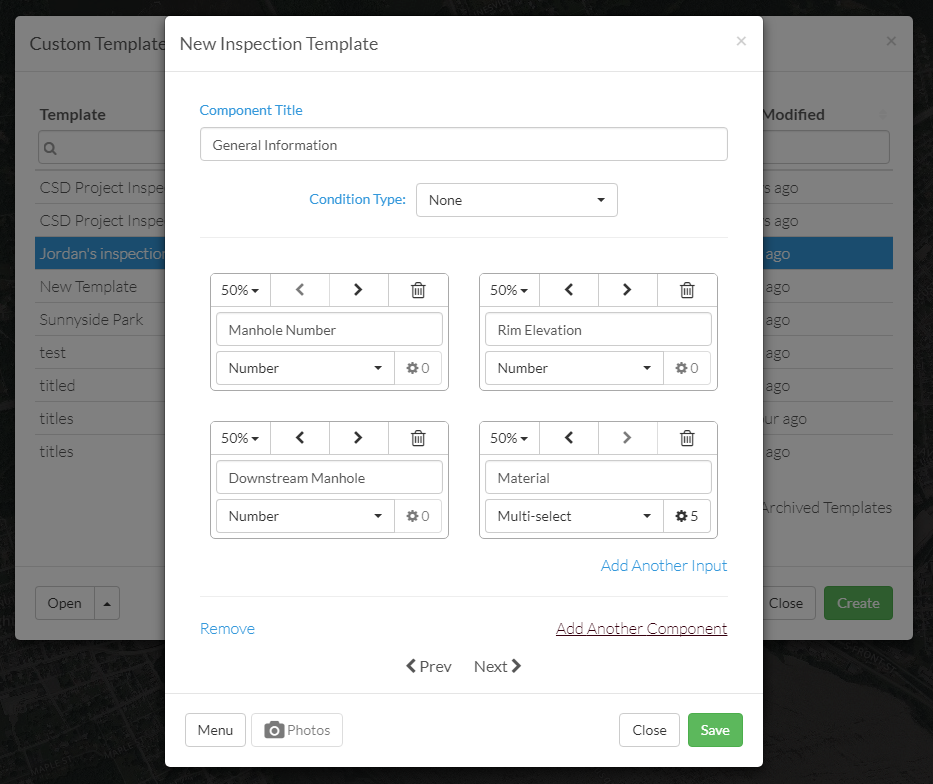 11. Here I created a similar page, only with a different title and input types. There is no limit to the number of pages you can create. I made the one field a question (Drop Manhole?) with a single-select answer with choices of yes or no.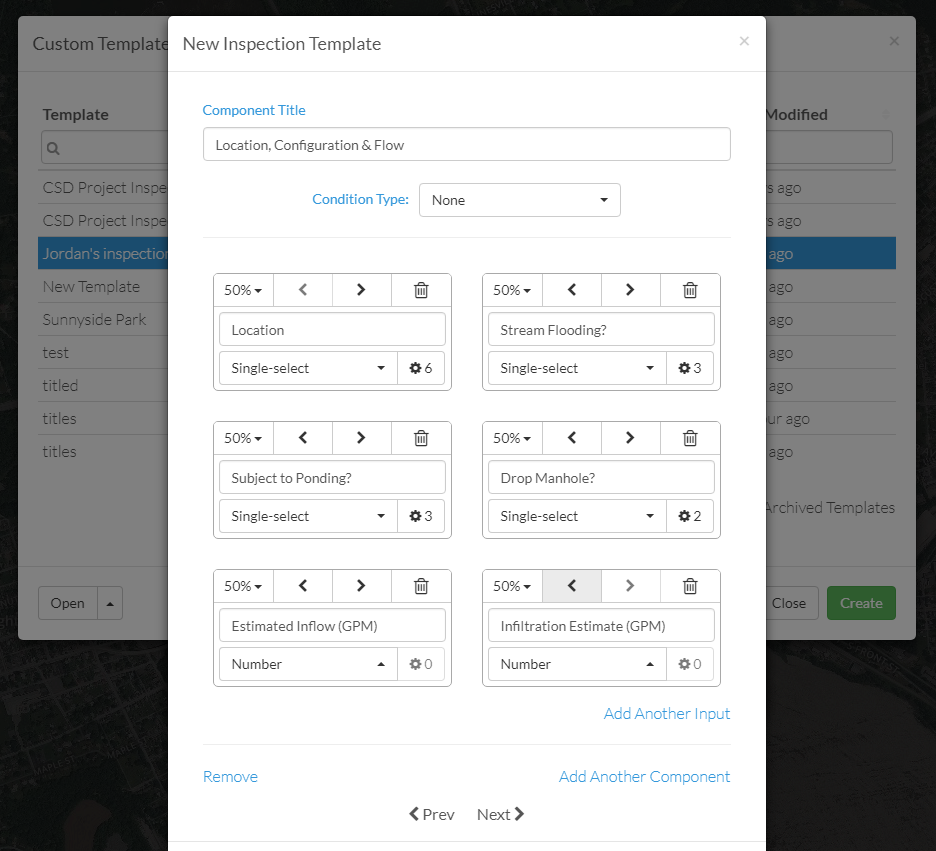 12. After you're finished adding components - click the 'Next' hyperlink. Here you'll be presented with the 'Overall Condition' page. You have the option to pick None, 'Excellent-Good-Fair-Poor' or Pass vs. Fail. The text field below is an open field for the inspector to type summary statements (but NOT recommendations). Click 'Next' to advance to final screen.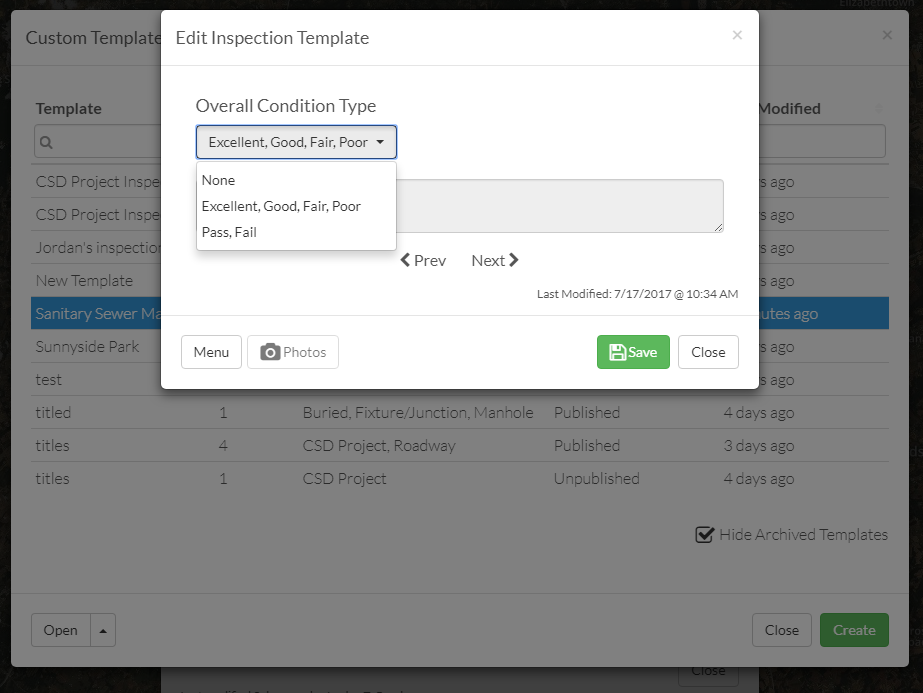 13. You're almost done! The final screen is for inspector recommendations. This part is NOT mandatory but if you find that your crew is making the same recommendations over and over again - it might be helpful to preload a bunch of standard options for them. They will still be allowed to enter their own unique recommendations but this will help them consistently enter data.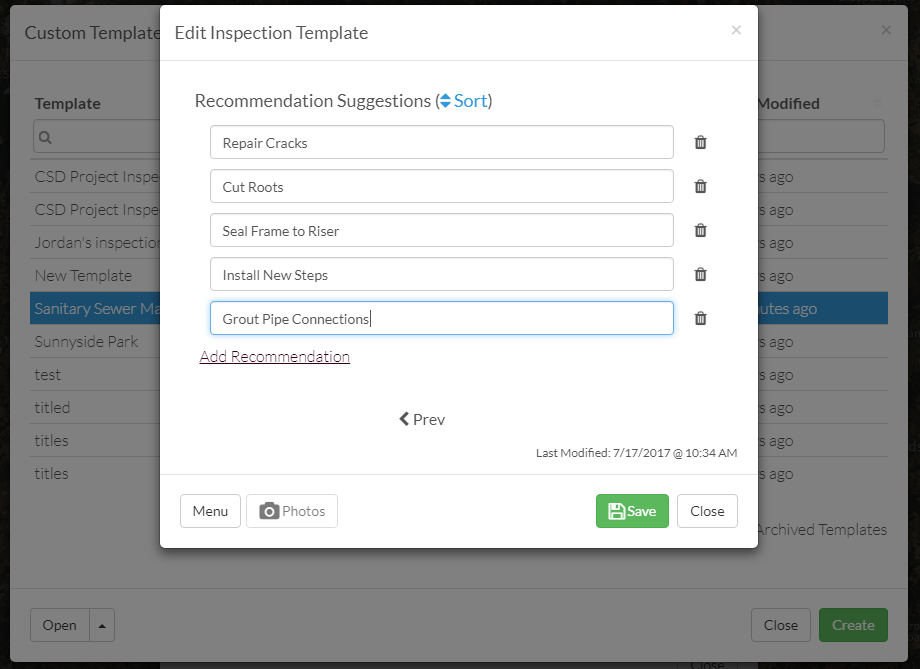 14. Hit the Save button and then close the form. You will then be taken back out to the 'Custom Templates' main screen. Take note of the Status column...the form you just created will be in 'Unpublished' status. You can review and edit any form in this status - but it will NOT be available to the inspectors until you publish it. To publish, simply click on the form you wish to activate and then click on the 'Open' button in the lower left corner.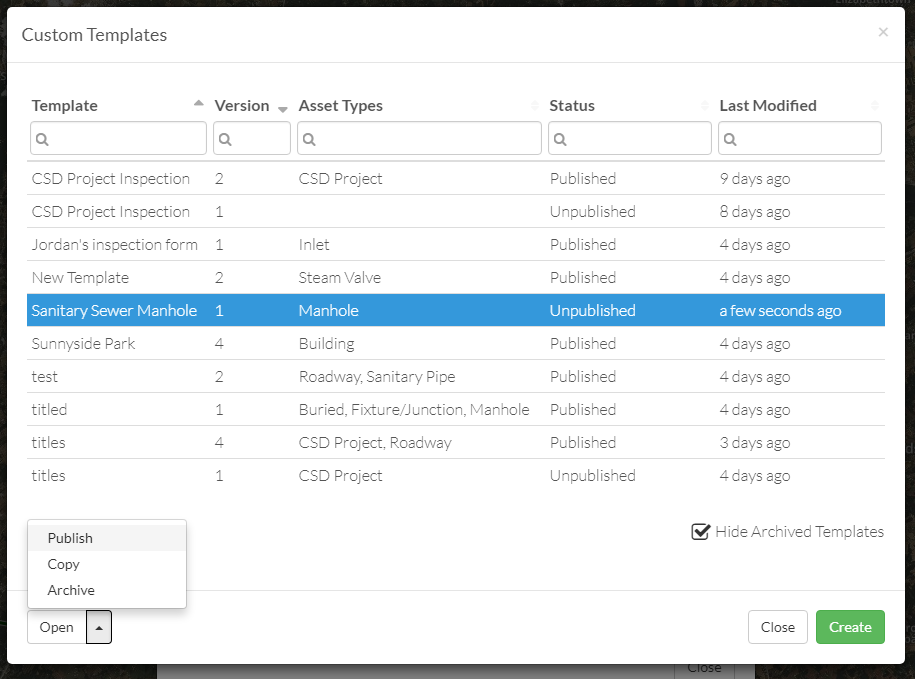 Once it is published - it CANNOT be modified again. If you wish to make a change to this form, simply copy the form, make the appropriate updates and then Archive the original copy. This will preserve all of those old inspection records for eternity and beyond.
15. Now - onto the fun part! Since I just published a sanitary manhole inspection form, it will be available on the map under the Inspection panel.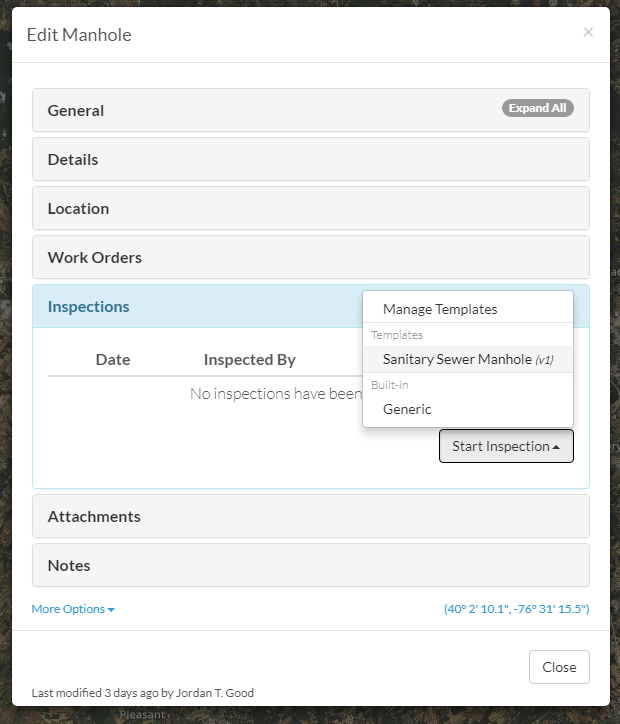 Everything from this point forward will be very similar to the other inspection forms in CSDatum. Simply answer (your!) questions - hit save and then look for a finished and formatted PDF, complete with an organized photo log.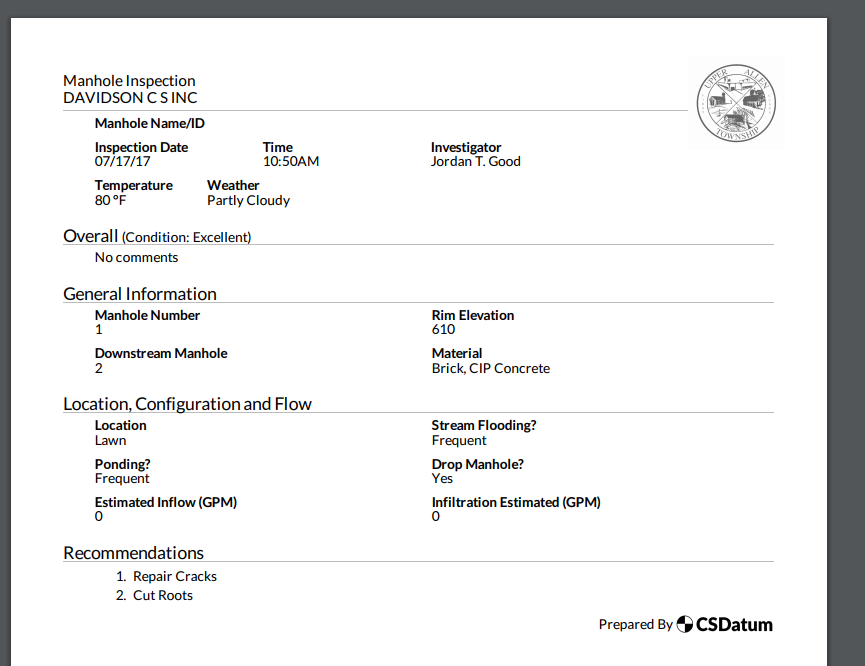 As you can see - this is a complex feature....but we think it's a flexible and powerful tool for collecting information in the field. Please check it out and let us know how it works!