Linking Documents in Bulk & Free Product Demonstration
Link a large batch of documents
Friendly suggestion: Name your PDFs (as-builts, inspection reports, etc) = unique asset name. Why?
Because if you do - we can easily upload and link those documents to your CSDatum mapping in bulk. This could save you countless, agonizing hours of manual data entry.
Here's a good example of how this can work.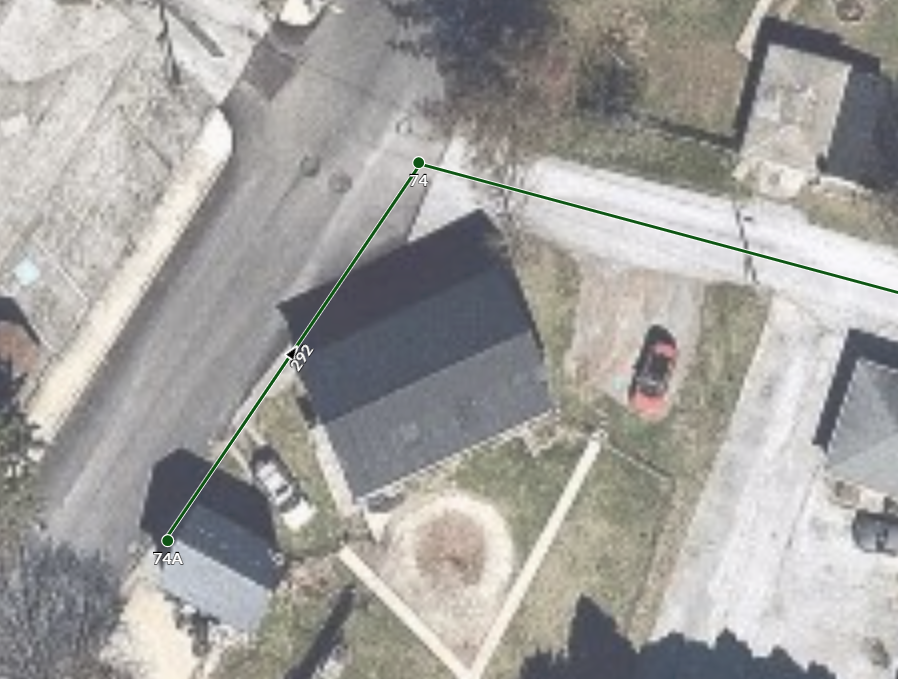 In the above picture - you'll notice the sanitary sewer line (#292) runs from Manhole 74A to Manhole 74. So if you have an old construction drawing or a CCTV report for this line - simply name your scan like so:
74A-74.pdf
or
292.pdf (this scenario is less likely - as most of you haven't 'named' your linework)
This might seem obsessive-compulsive or neurotic - and maybe it is...but it allows us to work quickly with your data; particularly when working with thousands of documents! If named correctly, in a matter of minutes, everything can be linked to the correct line or manhole in CSDatum!
When you open the attachment section for line #292, you'll see this: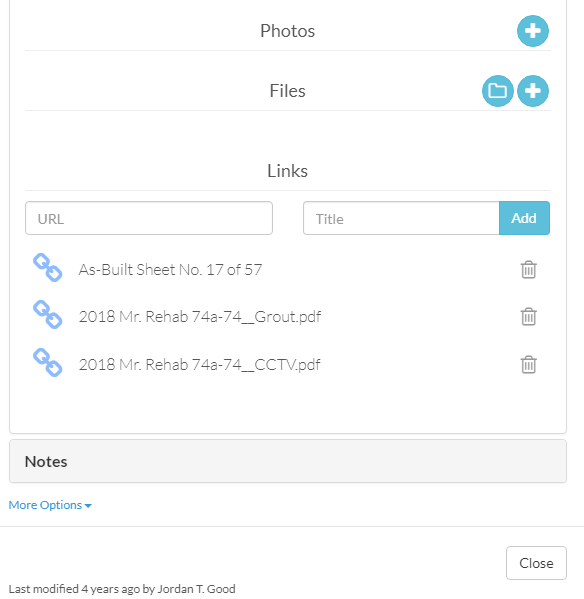 In this real example, Mr. Rehab - a sewer cleaning, inspection and rehabilitation firm in Mechanicsburg was able to export their CCTV/Grout reports into individual sewer line reports. They shared the files on Dropbox with us and ABRACADABRA, everything was linked shortly thereafter..and a big shout-out to Arthur Fad Jr. @ Mr. Rehab for making this happen. So don't scroll thru hundreds of pages in one PDF or browse thru thousands of PDFs on your computer - get the file you need, immediately.
So if you have questions about how to name your data or want to get started with a bulk upload, just send us an email.
---
In a similar vein, we recently saw a presentation by Rusty Hesselschwardt of Advanced Rehabilitation Technology on their OBIC liner system. This spray-on technology is ideal for relining manholes, wet wells, culverts and large wastewater structures.

Rusty has offered to perform a free product demonstration to our clients, so if you have a problematic manhole and want to see their product in action, give it a try! We have no affiliation with the company but if it helps manage your infrastructure, we're happy to make the connection.
Feel free to contact him directly at 567.239.6146 to schedule or as always, let us know.
RoadBotics Integration & Traffic Signal Mapping
RoadBotics Integration
If you haven't met our friends at RoadBotics yet - allow us to make an introduction!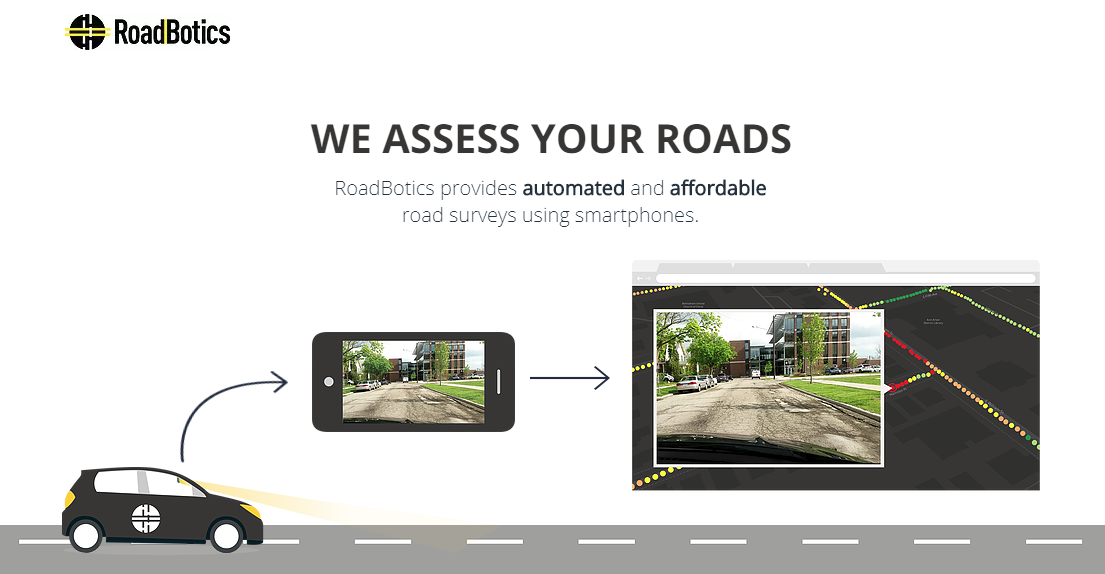 Spun out of Carnegie Mellon University Robotics Institute and based in Pittsburgh, the firm offers an objective, automated and affordable solution for assessing your roadway network. Using only smartphones, their drivers will 'scan' your municipality and then their artificial intelligence will analyze the collected images to generate a condition rating (at 10-foot intervals). All of the results are displayed in a clean, easy-to-understand web map.
A few months ago, Annie Tamburro (Director of Business Development) and Ben Schmidt (Chief Technology Officer & Co-founder) came to York County and gave us a short presentation over breakfast. Several local municipalities signed up for the service and are currently underway. Since that time, we've chosen to update CSDatum to seamlessly 'receive' the RoadBotics data.
This means all of their condition ratings and photos can be viewed directly within CSDatum and your existing roadway layer.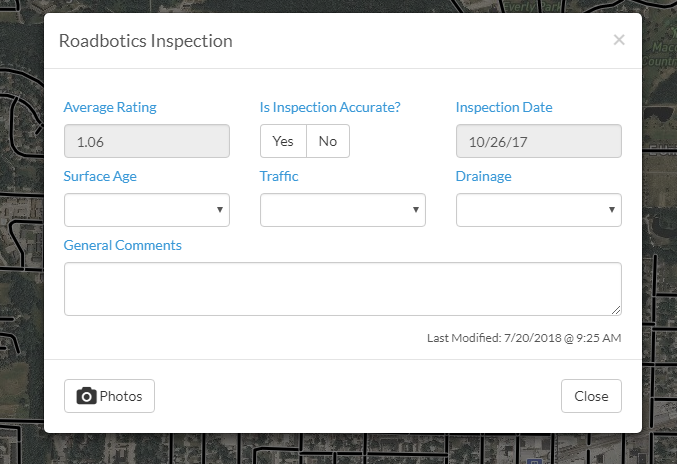 The RoadBotics inspection records can also co-exist with your own inspection reports.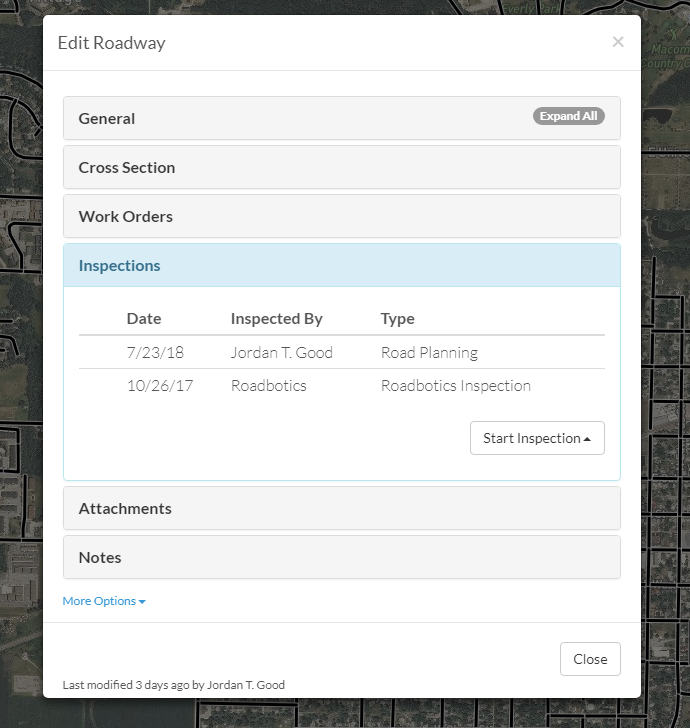 And ultimately, you can use all of this information to build your long-range roadway management plan in CSDatum.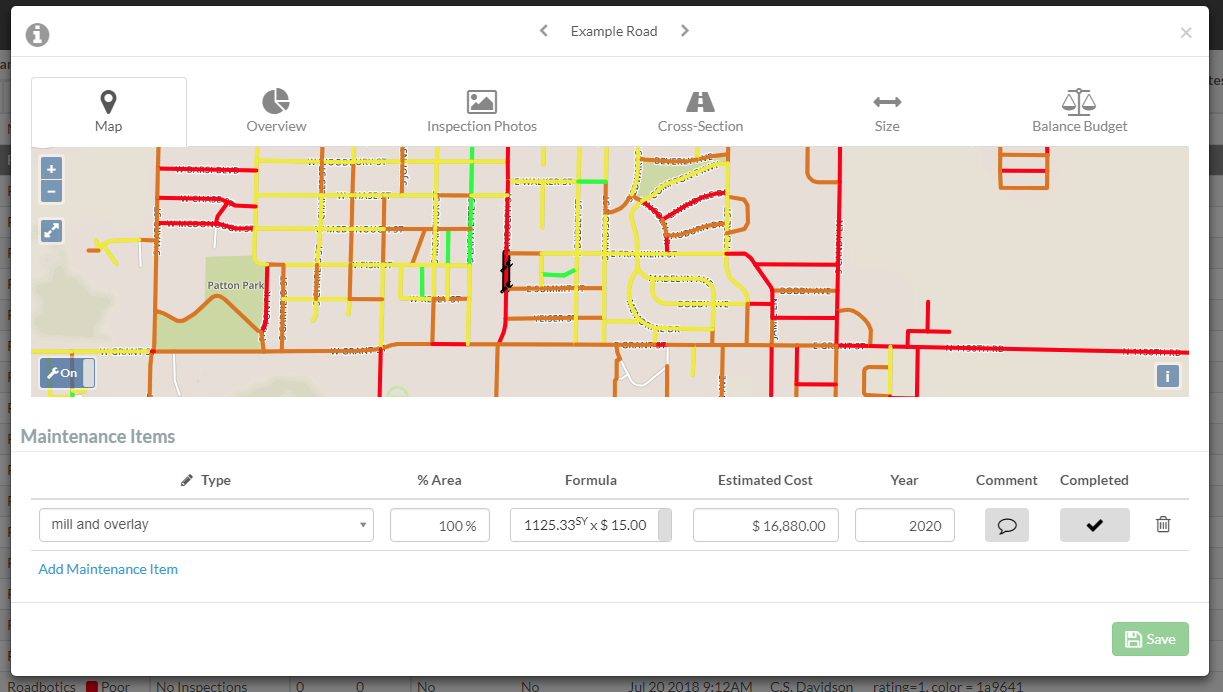 We love what RoadBotics is doing to revolutionize roadway management and are pleased to work alongside them. Even though our services are completely independent - we think the two make an effective combination! If you are interested in hearing more about RoadBotics or how to generate a roadway plan in CSDatum, please let us know.
(A quick aside - our compliments to David Salley and Dennis Nissley at Mount Joy Borough in Lancaster County for generating their own impressive Roadway Management Plan. Well done!)
Traffic Signals
This one has been requested many, many times - so here you go, start mapping all those traffic signals in your municipality!
Look for it under the Transportation Layer: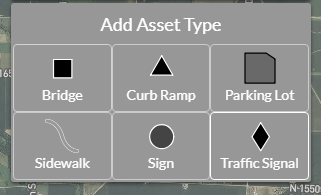 Just like every asset in CSDatum, you can store your validated information and add scans/photos/inspection records.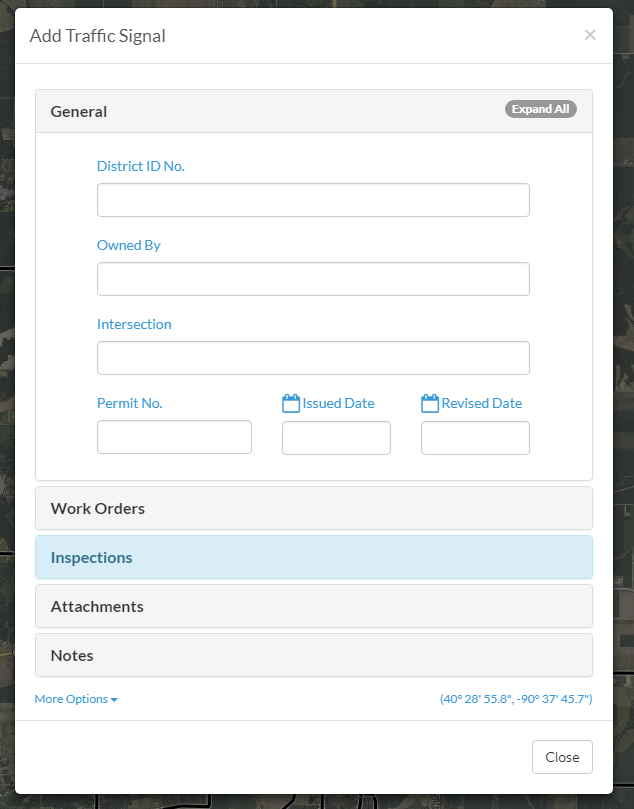 That's all for now - and we're back to the intensive rebuild of Permit Manager and the soon-to-be-released DIY Layer, which will allow you to build & customize your own assets!
New: Custom Owners and Filtering
Hello all - and we hope you had a great Memorial Day weekend. Summer is just around the corner - and that means there's local college students out there looking for quality internships. Consider hiring one and setting them loose with some projects in CSDatum; we have many examples of geography majors from Millersville, Shippensburg, F&M, etc making a real impact in just a few short months.
Speaking of interns, our very own Kyle Jones (York College - Computer Science) has done a fantastic job with this new update. He hails from Stewartstown in York County and we're happy to have him aboard. He wrote all the code for this improvement and the following "tutorial" was also written by him.
---
Custom owner names with map filtering is finally here! This means that you can now assign a custom owner name to each of your assets. Just as important, you can now apply a map filter with these custom names across all layers and assets.
Custom Owner Names
Instead of the default owner names (Municipal, State, Private & Joint), you may now enter your own name for any asset. A good example of this? Many of you have mapped or located inlets, streets, sewer pipes or manholes just outside your municipal boundary. You don't own them - but it's probably a good idea to know where they are. Before, you had to classify them as "Municipal", which lumped them into YOUR ownership category and forced you to leave a note to differentiate. This was also difficult for Sewer or Water Authorities that span many municipalities. No longer!
Changing the owner is the same as before, simply edit the 'Owned By' field in the general section of an asset's data.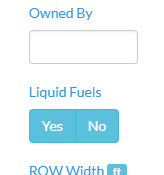 This field is considered a "type-ahead" which means that after you type "PennDOT" or your Municipality name once - it will be available as an option in every Asset afterwards. Take care to consistently and accurately use this list.
Filtering
Our updated map filter (available by pressing the three vertical dots, then pressing the "Filter" button, as shown in the visual below) allows you to filter the features according to their owner name OR abandoned status.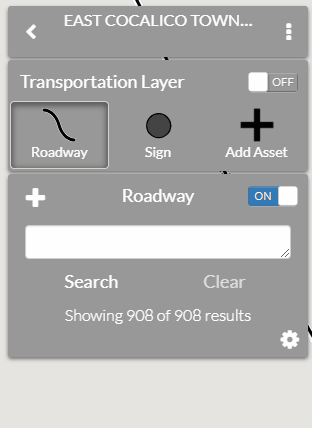 As you can see in the visual, the owner filter options are auto-populated with the names entered in your various assets. You may also filter by the abandoned status of those assets. If you haven't used the abandoned feature before - it allows you to preserve the data and location of your old infrastructure - but adjusts the color transparency of the line or point on your map.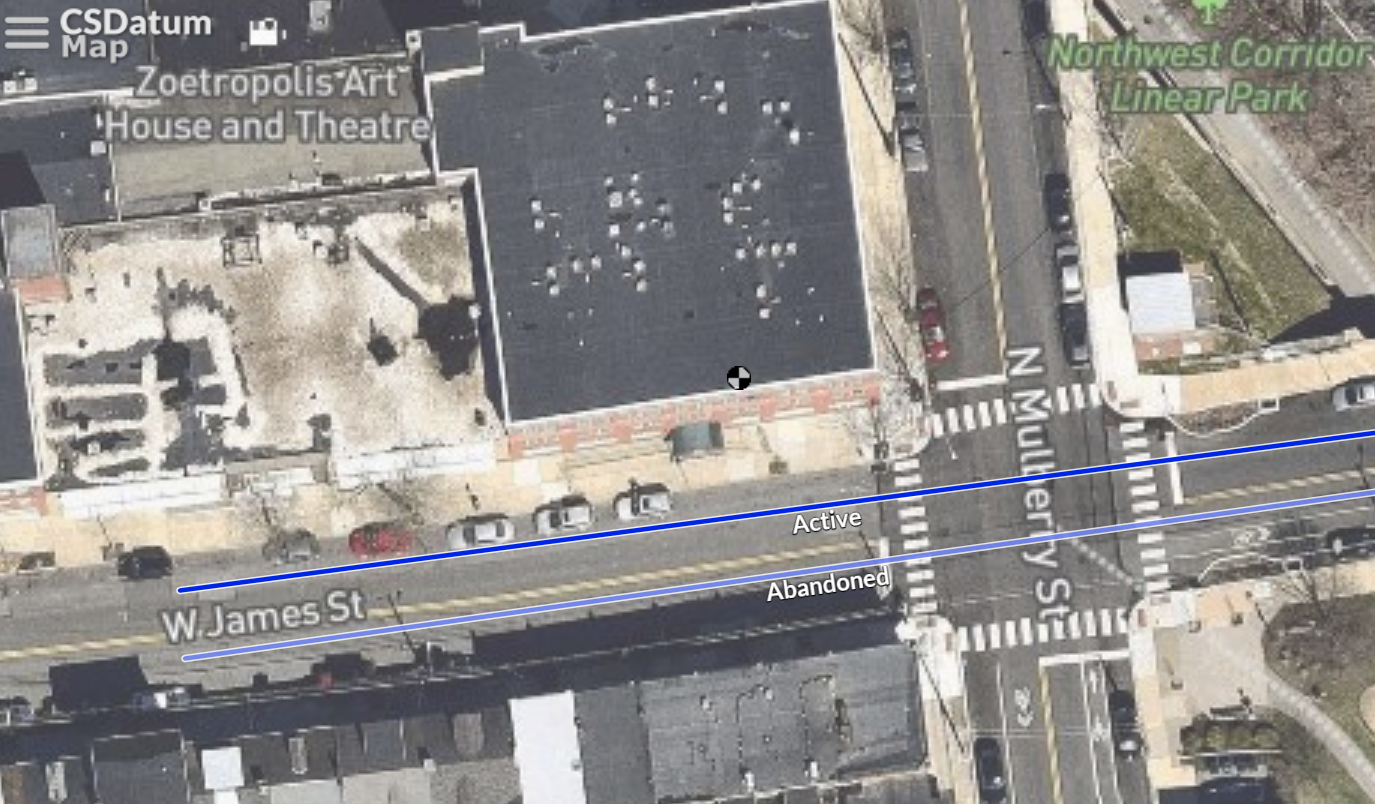 Just select the filter options that you want to apply, click "Filter", and you'll immediately see the filter applied. A key note, this will filter every layer that you have turned on, so it's a great way to quickly view EVERYTHING that one or multiple owners are linked to.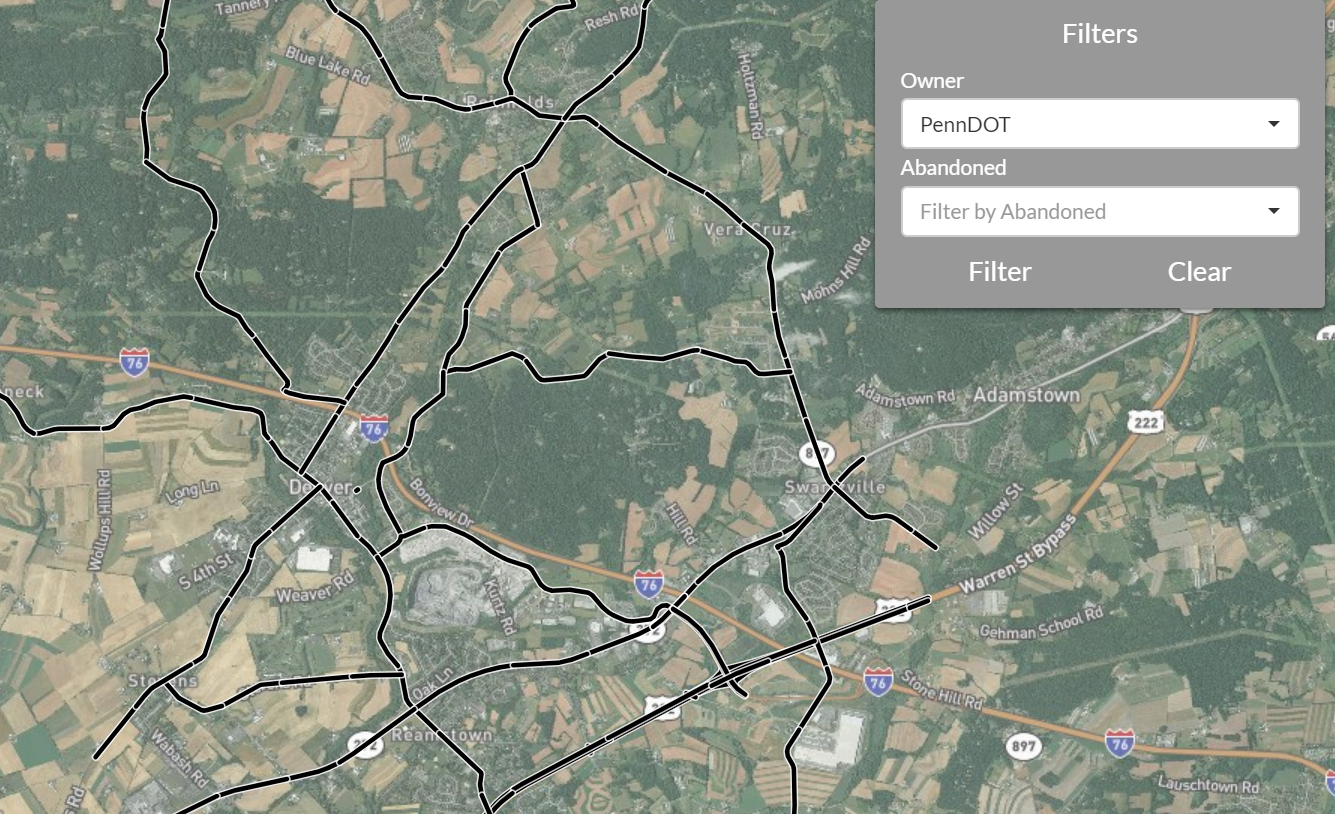 We recognize many of you only have your local roads (or stormwater or sewer, whatever) added. If you have other mapping that you would like added to your account - please let us know!