Improved location accuracy & updated Terms of Service
Geolocation Services
Great news for Android users! Google recently updated their Android platform - which means that your smartphone or tablet just got 2-3 times more accurate when mapping within a web browser. Previously, the software was limited to an accuracy of 10 meters or 32 ft. So if you were on a cellular network (not WIFI) and clicked on the 'Location' button in our map, you could be standing anywhere within the 32 ft. wide blue circle shown below.
Here I am - standing on the curb in front of our Lancaster office (before the update).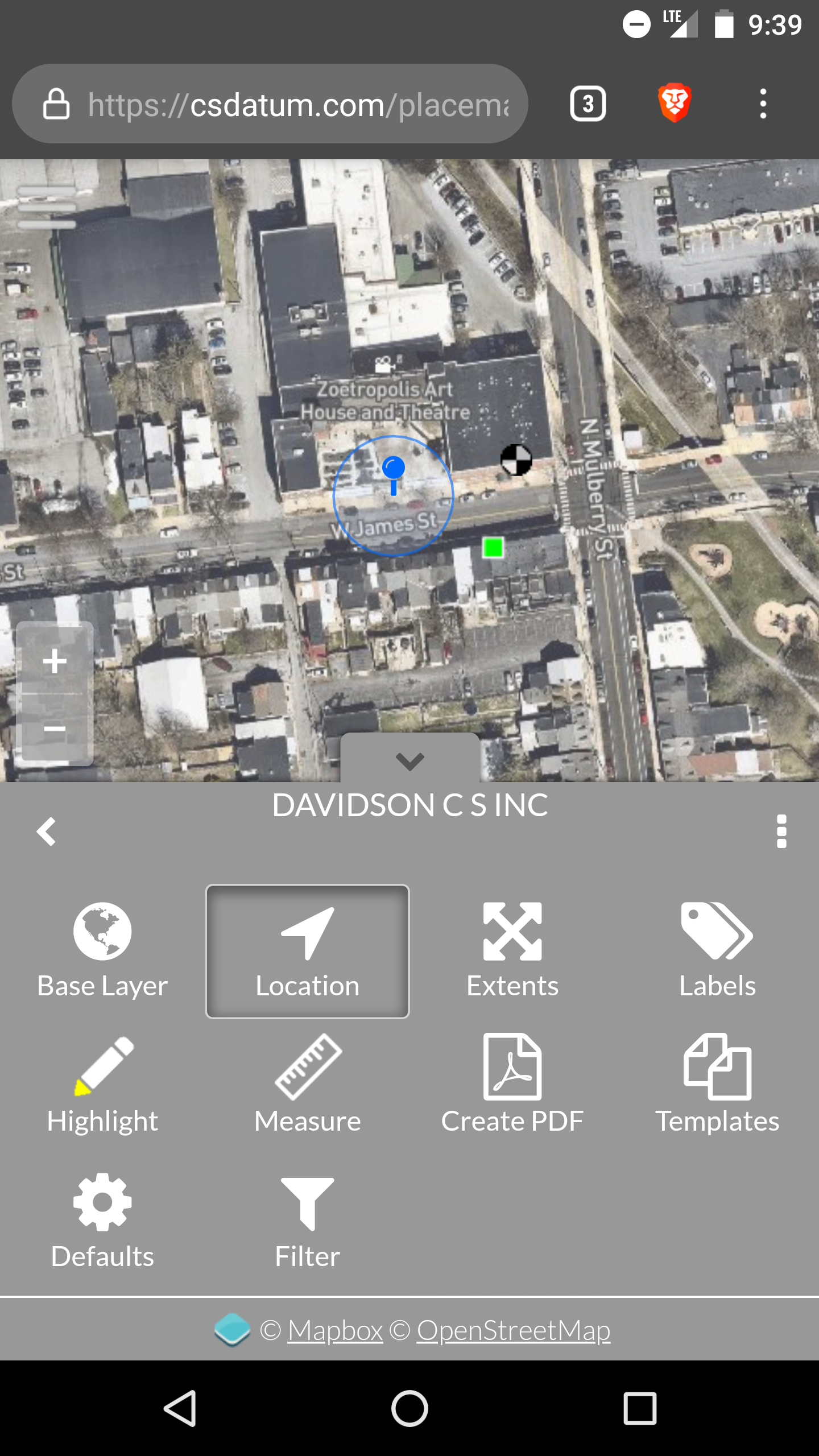 But now? We're down to 3 meters accuracy or just under 10 ft.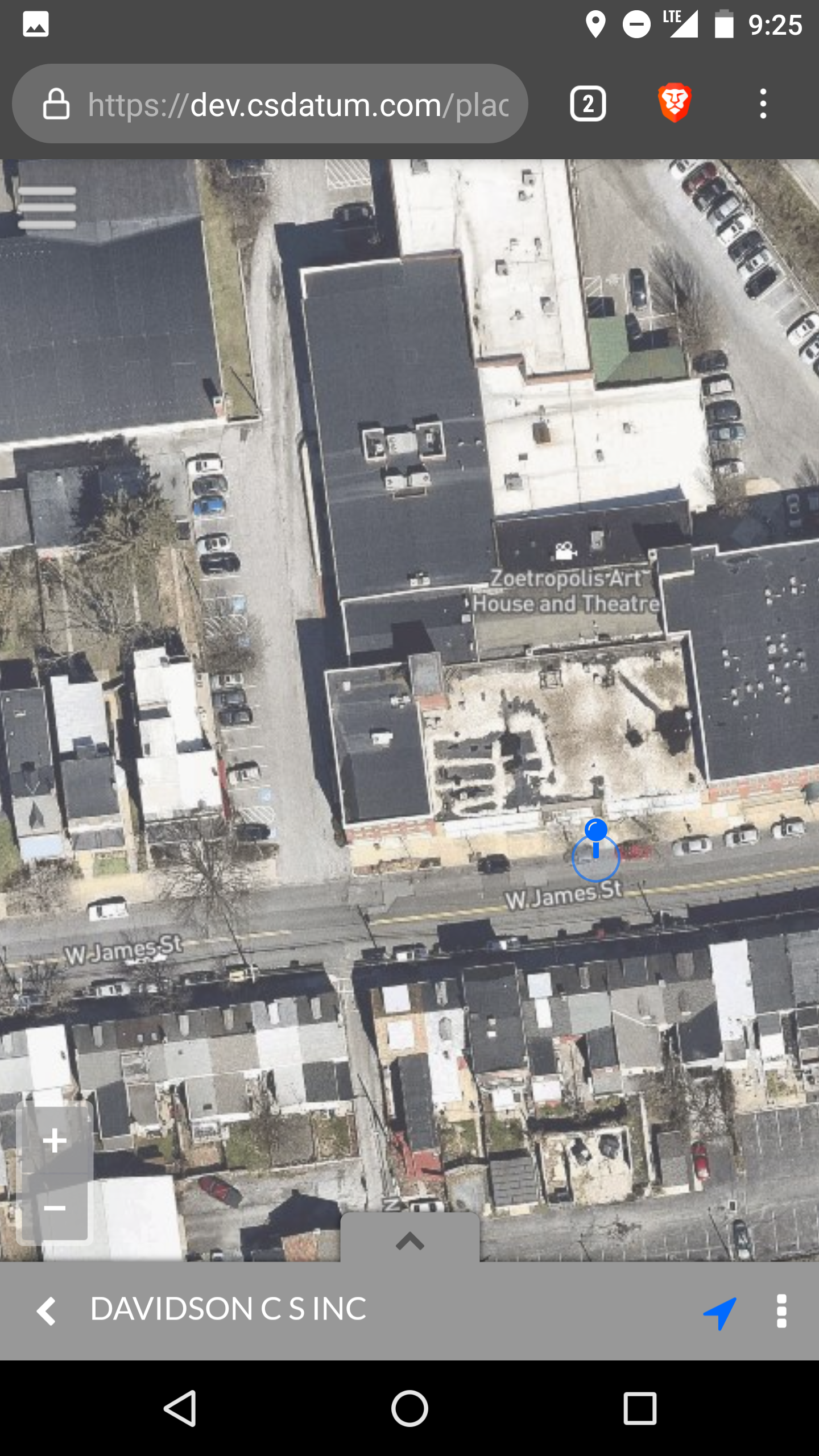 See how much smaller that circle is? That pin is almost exactly where I was standing on West James Street. The benefits should be obvious - and improving the accuracy of our program is a topic we've discussed with many of you over the years.
---
As a result - we've added a new option for adding points, lines & polygons...add by location!
To use, simply click or tap into any Layer & Asset in your system. In this instance, I'm going to map the location of a main water valve.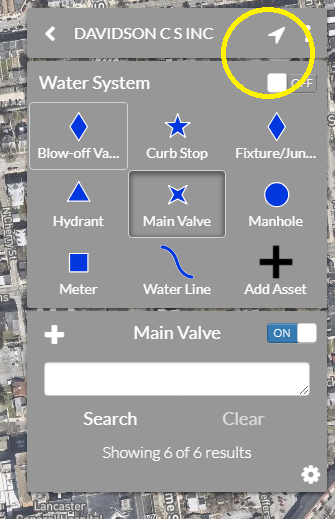 Tap on the new Location arrow on the menu bar. This will enable 'High Accuracy' on your phone and you'll likely see a pop-up screen similar to this (you'll want to allow it).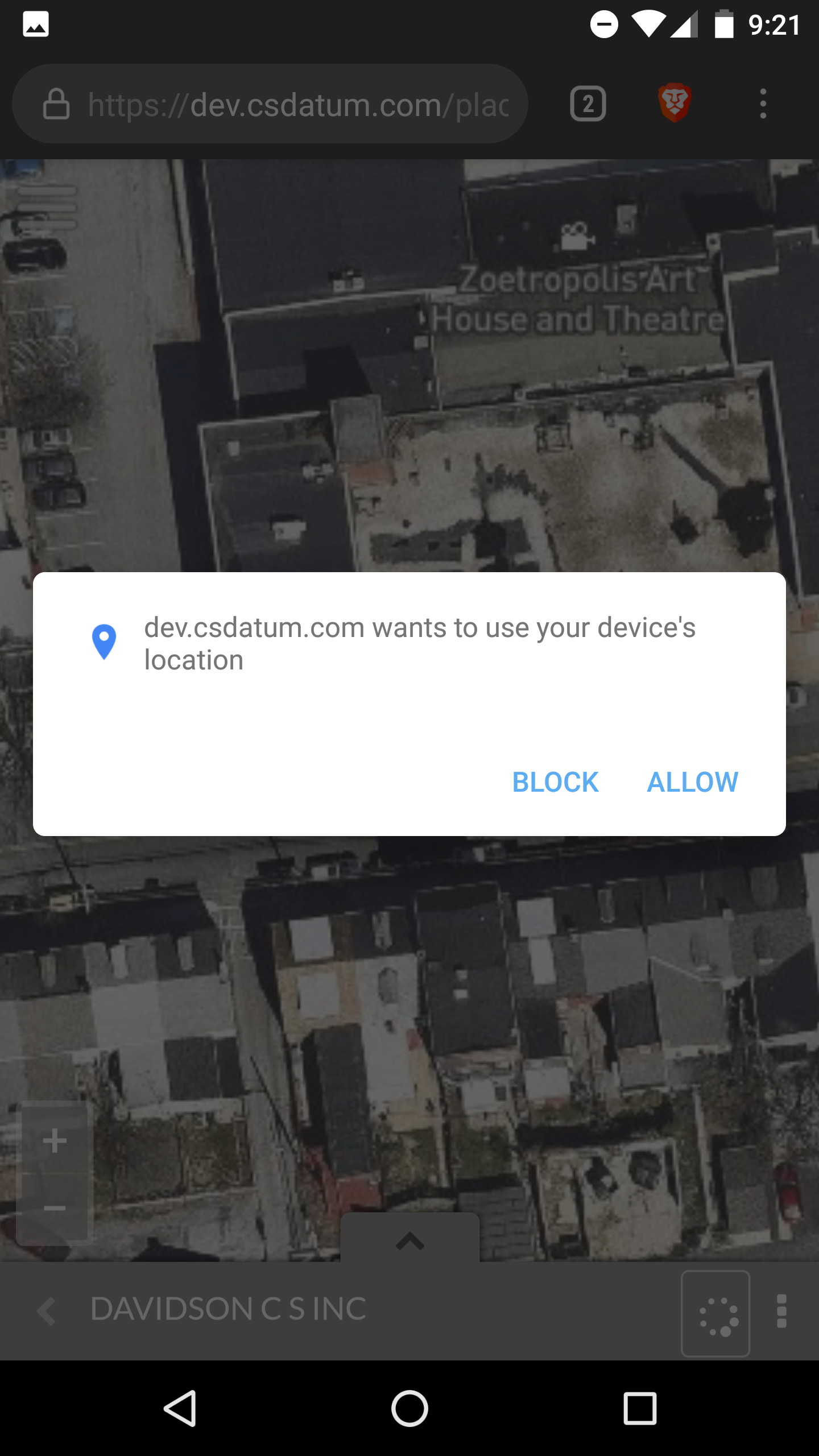 Tap on the familiar "Add" or plus button. In addition to the blue pin & circle, you should now see a 'Add Point by Location' option at the bottom of your screen.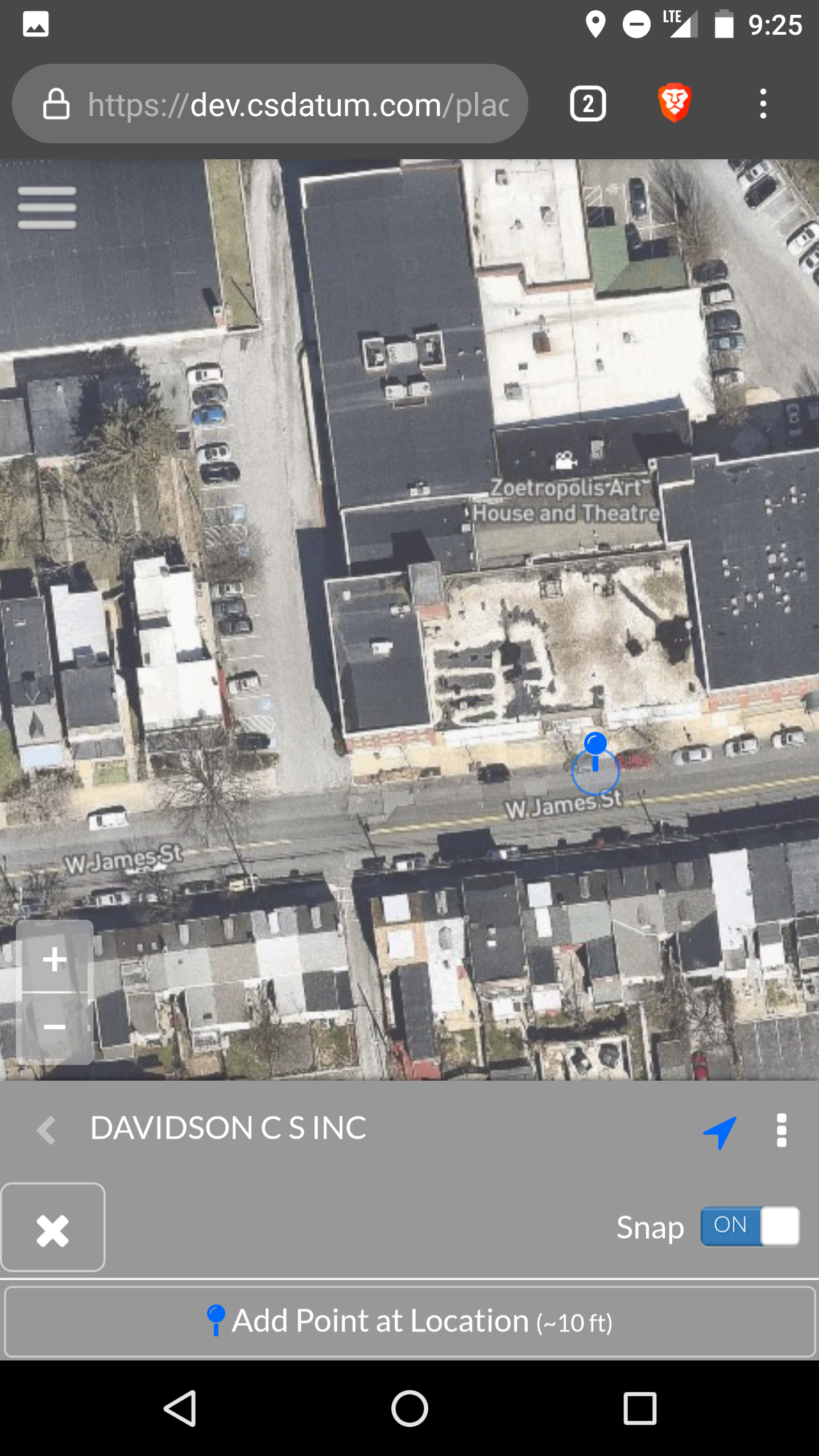 Notice the (~10 ft) at the end. This is your location 'accuracy'. The pin might be right on top of the manhole, inlet or valve but the web browser is only confident that you're within that 10 foot circle.
So by tapping the "Add Point at Location" button - I added a new water valve - and all the controls should look familiar at this point.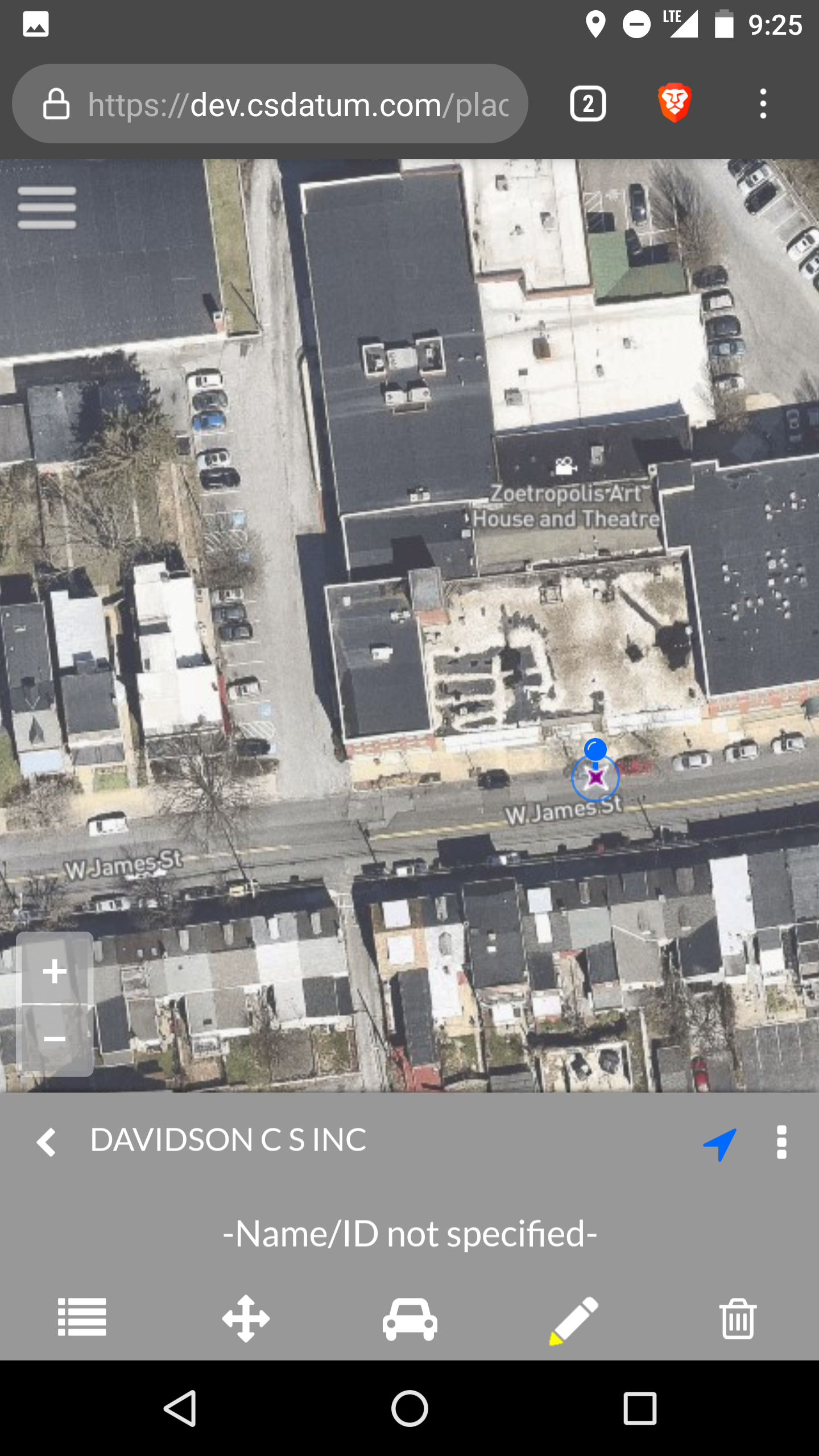 A few disclaimers:
The program is still not to be confused with survey grade GPS mapping (sub-meter) and it's largely dependent on how many satellites your phone/tablet can see. So if you're standing in front of a large building or under heavy tree cover, results will certainly vary.
Sorry Iphone/Ipad users - we're still waiting on Apple to make the same update. The semi-good news is that you can still use the new feature! You might even see the same accuracy as your Android peers...we just have no way of reporting it back to you. Caveat emptor, as they say.
By enabling 'High Accuracy' on your device - it's looking for more satellites; which means your battery will drain faster. Results will vary by device but please take this into consideration if you're going to spend a day in the field.
We're still researching bluetooth GPS recievers, like the Bad Elf Surveyor. These devices can tether to your smartphone via bluetooth and can provide very accurate location signals. The problem is - until Apple or Google updates their software, we can't access those precise coordinates! So if you really want sub-meter accuracy, you're better off mapping your points in GPS and importing into CSDatum later.
---
Updated Terms of Service
Completely switching gears, we're happy to announce that on January 3, 2019 - an updated set of Terms will go into effect.
Why did we do this? Well, to be completely honest - we haven't updated them since CSDatum launched back in 2015 and we've learned a lot over the last 4 years. In a nutshell, we streamlined some of the language and provided additional protection for you, the subscriber, if you wish to cancel your service...or if we ever need to change our pricing structure (it's been $2400/year since we launched and we have no plans to change it).
All of these term changes were reviewed and approved by our Attorney AND a Solicitor from another municipality.
We realize most people don't want to read the fine print but if you do - here's an early holiday gift:
As always, we welcome your feedback and we're incredibly grateful for all the ideas, support and advice we've been given over the last four years. Keep it coming!
Stream Crossings & Flood Inspections
Heavy Rain & Flooding
For many CSDatum subscribers, August was a brutal month. Heavy rains (repeatedly) worked their way across South Central PA and damaged our roads and bridges. The scenes below are all too familiar - both taken by C.S. Davidson engineers in York County after the Labor Day storm (10-12 inches in 1.5 hours!)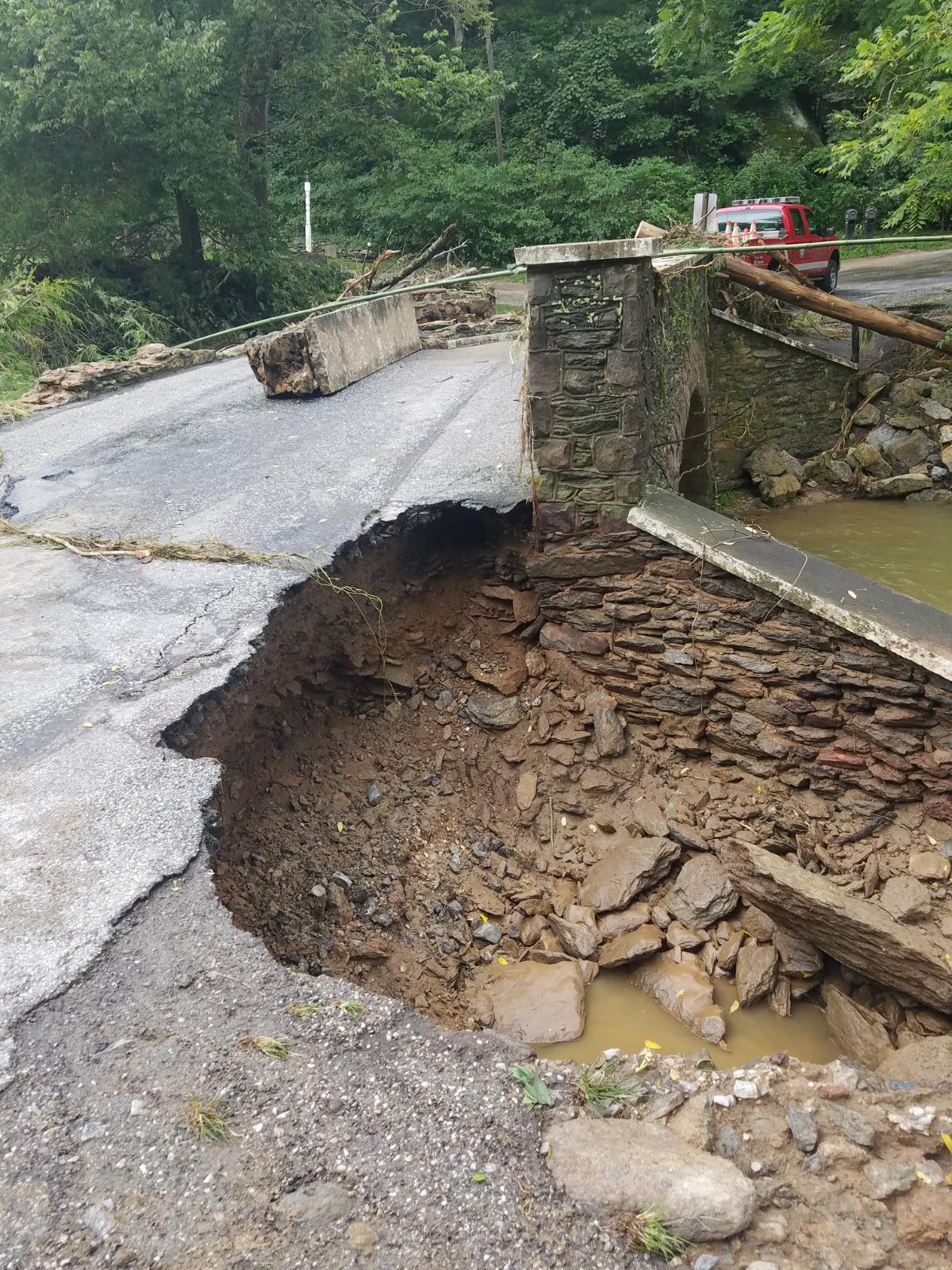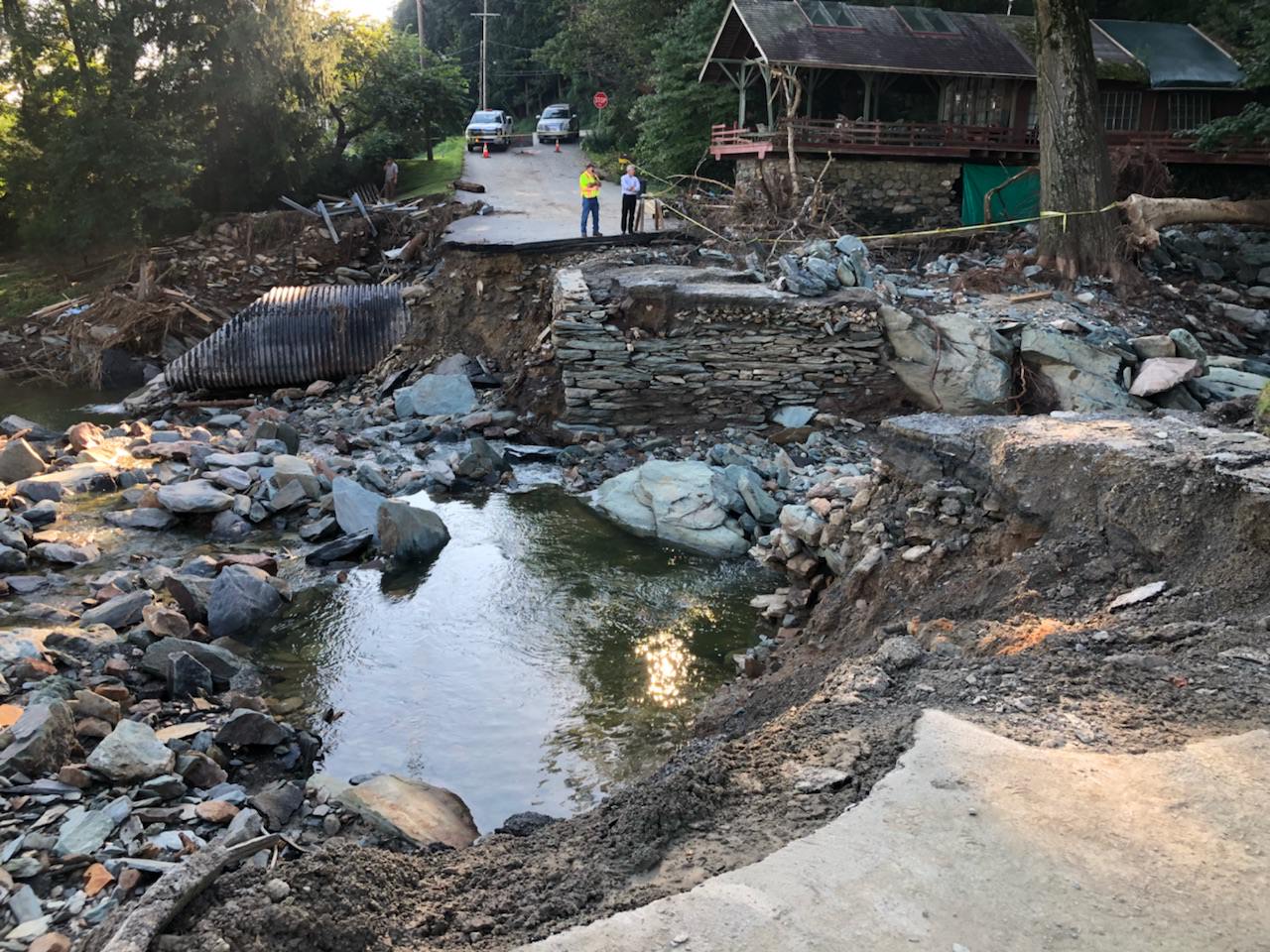 Many of you serve our community as first responders, so thank you for helping in our time of need! You're also responsible for documenting the infrastructure conditions during the storm - and repairing the roads and bridges once the waters recede. CSDatum can't stop the rain or rebuild the roads - but it can help you with tracking your data!
Potential Stream Crossings
Using GIS - we analyzed every potential stream and local road intersection. These 'crossing' points have been added to your account under the 'Notes' Layer. Click on the 'Stream Crossings' note to toggle them on or off. You should see a series of blue dots labeled with the letter X.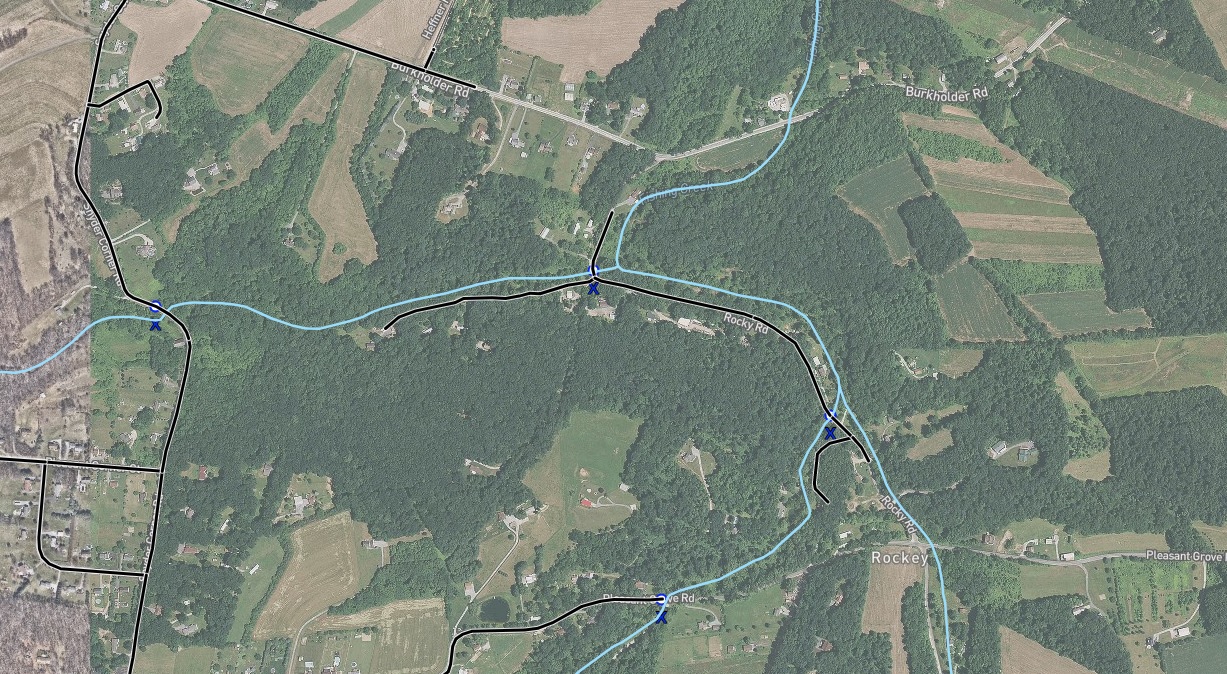 Click on any one of these points - and you'll see a pop-up with the road and stream name.
Please note, we haven't visited these locations or analyzed the size of each upstream watershed. This simply represents the intersection of a PA DEP Chapter 93 Stream and a PennDOT Local Road. It could be a small pipe, a 40' span bridge or a swale washing over a dirt road. We're just trying to help you find them - which can be overwhelming in a flood event.
If the blue dot is an actual bridge (typically we define a bridge as any structure larger than a 48" diameter pipe - PennDOT says 8' ); we suggest adding it as a bridge asset under the Transportation Layer. This will allow you to store notes, conditions and access the flood monitoring log.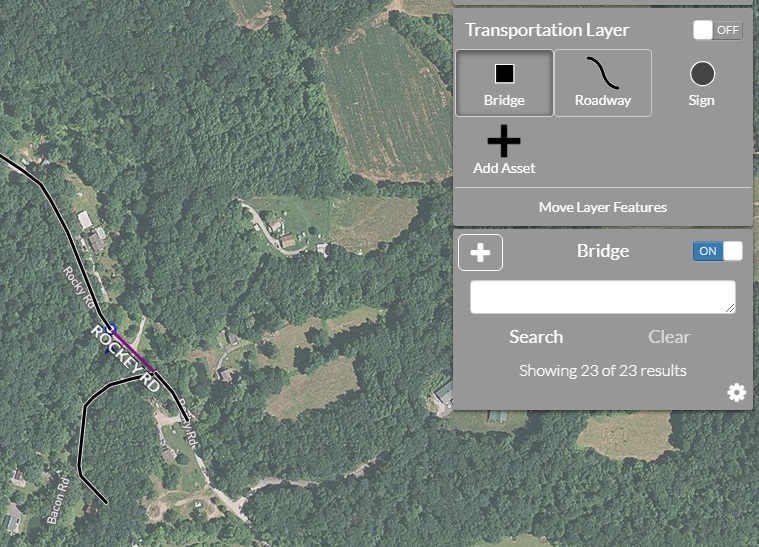 You likely know where your large bridges or troublesome locations are - but this might help you think about your entire drainage inventory. It's also a good time to consider having the system inspected by a professional engineer or capable municipal staff. The smaller bridges are often in the worst shape - as they're not regulated by PennDOT and are easier to miss.
Flood Monitoring Log and Inspection Records
This pre-built form is applicable for all bridges - but it's essential for PennDOT Scour Critical structures. If you own a Scour Critical A, B or C bridge - this can save you a ton of time, paperwork, and headache.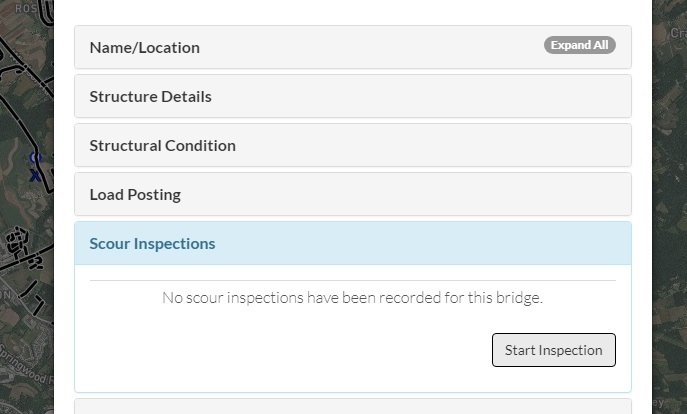 It works just like our other inspection forms and should be very easy to use. Just answer the questions and jot down your observations.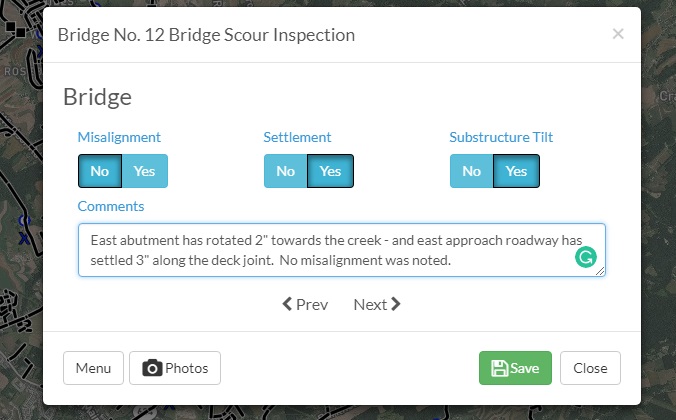 Remember to note the high-water mark and any debris build-up....these are critical bits of information for your bridge engineer or PennDOT. If the bridge was overtopped, it went under pressure flow...which is a fancy way to say it was hit really, really hard with flood water velocities.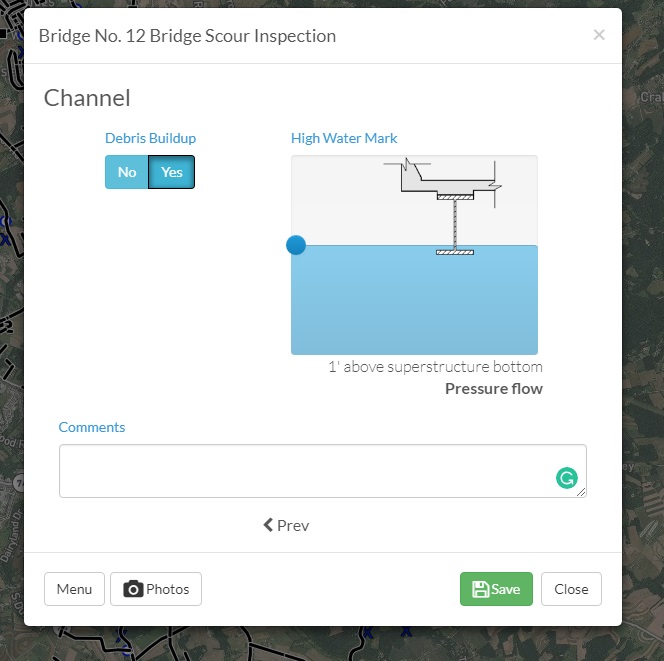 Toss in a few photos, hit save - and you've got a formatted PDF!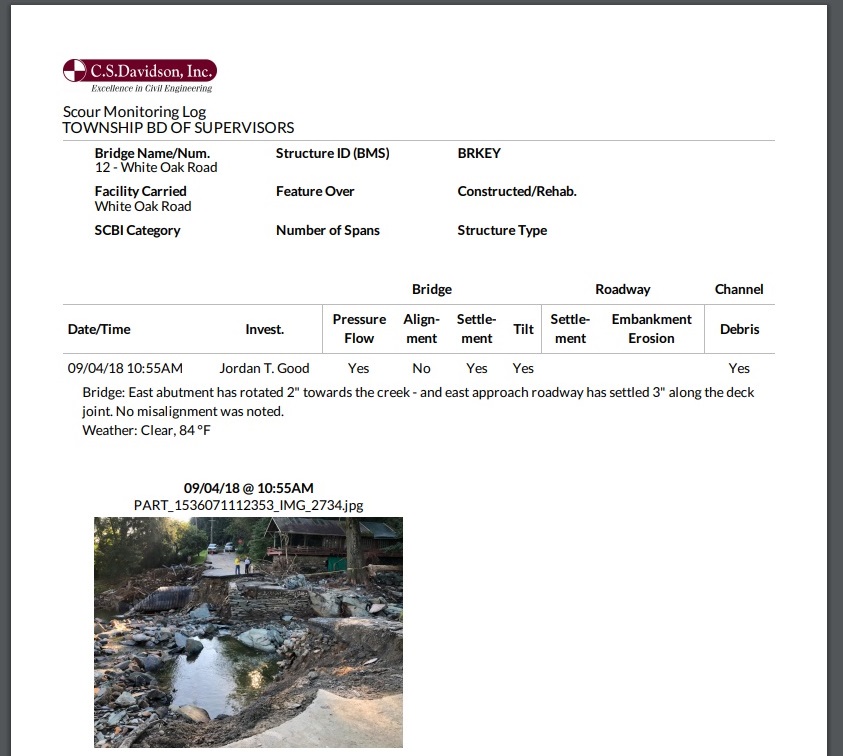 This tool was used during an FHWA audit a few years ago in York County and was extremely helpful to document the team's responsiveness. WE know that you're out there responding and inspecting in a crisis - but others might not. So just take the extra time to document your visit - and let CSDatum handle the rest.
As always - we're here to help with your infrastructure needs and answer any of your questions. Here's to a dry and cool Autumn!
Linking Documents in Bulk & Free Product Demonstration
Link a large batch of documents
Friendly suggestion: Name your PDFs (as-builts, inspection reports, etc) = unique asset name. Why?
Because if you do - we can easily upload and link those documents to your CSDatum mapping in bulk. This could save you countless, agonizing hours of manual data entry.
Here's a good example of how this can work.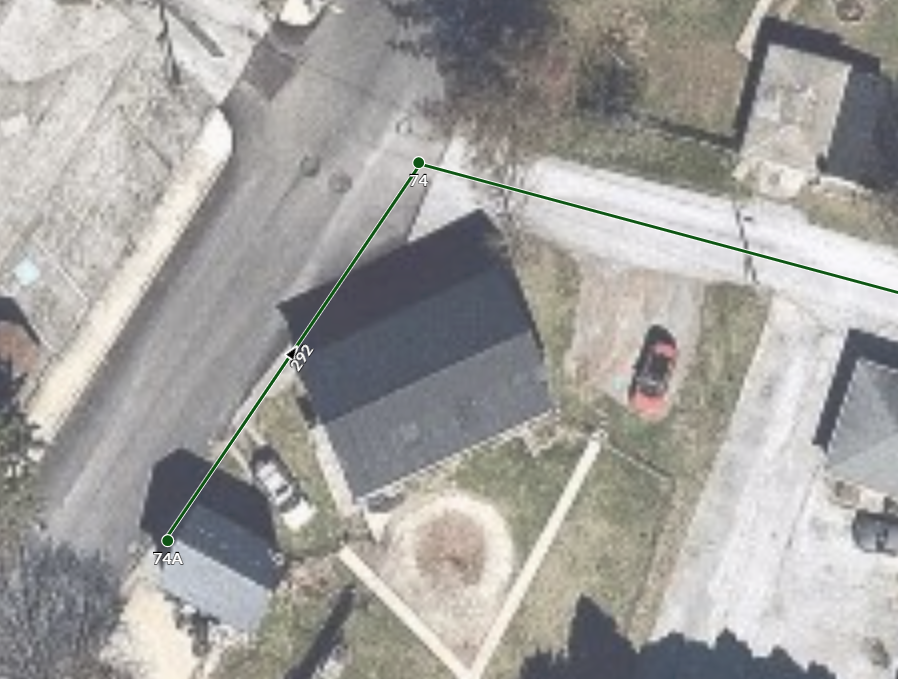 In the above picture - you'll notice the sanitary sewer line (#292) runs from Manhole 74A to Manhole 74. So if you have an old construction drawing or a CCTV report for this line - simply name your scan like so:
74A-74.pdf
or
292.pdf (this scenario is less likely - as most of you haven't 'named' your linework)
This might seem obsessive-compulsive or neurotic - and maybe it is...but it allows us to work quickly with your data; particularly when working with thousands of documents! If named correctly, in a matter of minutes, everything can be linked to the correct line or manhole in CSDatum!
When you open the attachment section for line #292, you'll see this: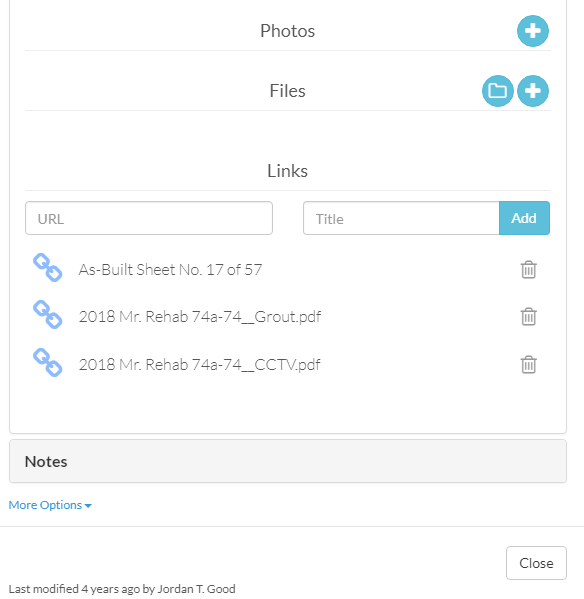 In this real example, Mr. Rehab - a sewer cleaning, inspection and rehabilitation firm in Mechanicsburg was able to export their CCTV/Grout reports into individual sewer line reports. They shared the files on Dropbox with us and ABRACADABRA, everything was linked shortly thereafter..and a big shout-out to Arthur Fad Jr. @ Mr. Rehab for making this happen. So don't scroll thru hundreds of pages in one PDF or browse thru thousands of PDFs on your computer - get the file you need, immediately.
So if you have questions about how to name your data or want to get started with a bulk upload, just send us an email.
---
In a similar vein, we recently saw a presentation by Rusty Hesselschwardt of Advanced Rehabilitation Technology on their OBIC liner system. This spray-on technology is ideal for relining manholes, wet wells, culverts and large wastewater structures.

Rusty has offered to perform a free product demonstration to our clients, so if you have a problematic manhole and want to see their product in action, give it a try! We have no affiliation with the company but if it helps manage your infrastructure, we're happy to make the connection.
Feel free to contact him directly at 567.239.6146 to schedule or as always, let us know.