Locating Problem Areas
Employees have valuable institutional knowledge about many aspects of their municipality, facility, or service area. This institutional knowledge is very important to a well-functioning organization, but that knowledge is most useful when it can be saved and passed on to others. CSDatum is one way of recording institutional knowledge. Once it's recorded, it can be more easily shared with others. It also allows that knowledge to be used many years in the future when memories have faded and employees have come and gone.
One area of institutional knowledge that can be important to a municipality or other organization is problem areas. I'll bet there's someone at each municipality that knows where flooding occurs whenever there's a strong rainstorm. Sinkholes can be a problem, too. When they open up, maintenance crews race to get them filled in to keep the public safe. So, the road crew may know where there have been sinkholes, but is that knowledge going to be easy to access 10 years in the future?
Another example of a problem area is signs and guiderail that have been damaged from a crash. Marking those locations as soon as they are noticed, enables crews to go back at a later time to perform repairs. Making these records also creates a database of how many times a particular sign or guiderail has been hit. If the specific number of times is known, it's easier to determine if safety improvements are needed.
I'm sure that you can easily identify at least a half dozen other uses for marking problem areas throughout your municipality or facility. With this in mind, we recently created a new data set called…(suspenseful music)…Problem Area! I know…the originality is overwhelming, right? If nothing else, we are succinct and straightforward.
Here's how to start adding Problem Areas to your map in CSDatum. Begin by clicking on the Municipal Layer. Then click Add Asset, and choose the Problem Area layer to be added.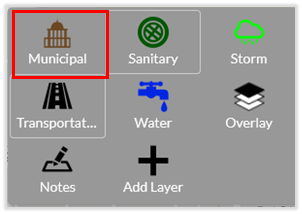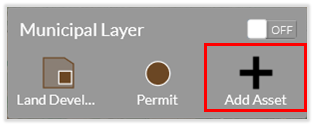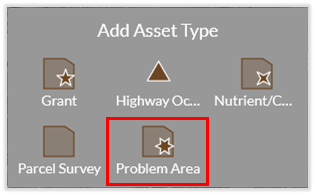 Once the asset type is added, you're ready to begin mapping. Within the Problem Area box, click the Plus sign.
Then choose if you're going to be marking the problem area as a Point or Polygon. A point is best for small problem areas or things that should be marked with a very specific location. Choose the polygon instead if you want to mark a larger, more general area with the problem.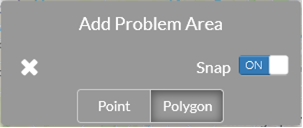 Once you start adding problem areas, you'll see that it's a pretty simple asset type, with only a few data fields. Give the problem a name, choose who owns the problem, choose from a few pre-populated problem types, and then note if the problem has been corrected. Just like all other data layers in CSDatum, you have the unlimited ability to attach photos, documents, and links. In addition, you can inspect the problem area at regular intervals using CSDatum's built-in inspection tool and generate reports and data for later analysis.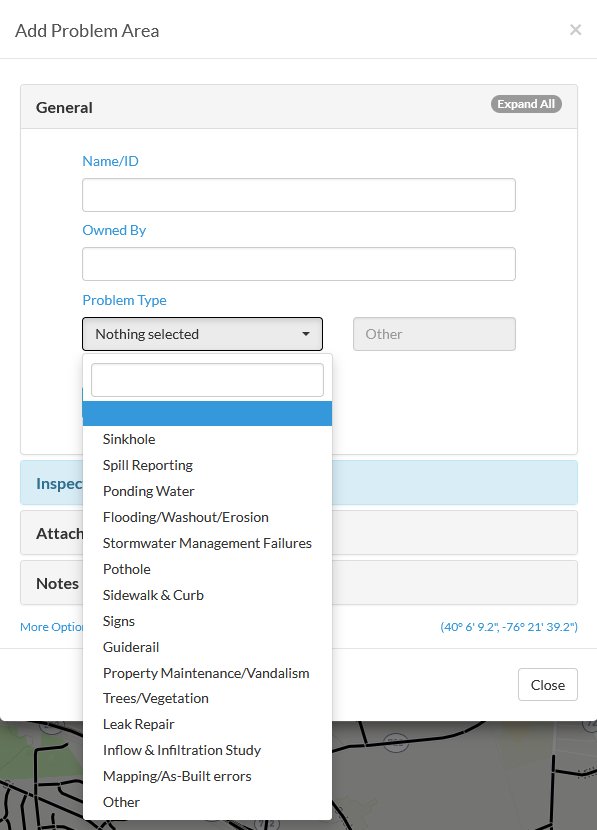 We think you'll find a lot of uses for this new data set. As you start recording your problem areas, drop us a note and let us know how it's going for you. If you can think of ways to improve the data recorded in the Problem Area, let us know that, too. We're always looking for your input on how we can improve.
Too Much of a Good Thing? Not if You Have Good Search Tools
Happy Summer to all! We hope you've been getting outside and doing the summer things that we all love – picnics, grilling, swimming, gardening, hiking, beaching, camping, and on and on…
There's a lot to do during the summer. Almost too much. Folks may say that you can't have too much of a good thing, but is that really true? Sometimes there's so much that we want to do during the summer, it's impossible to fit it all in.
Searching Overlays in CSDatum
Sometimes there can be too much of a good thing in CSDatum, too. That's why we build all sorts of tools to help search for, filter out, and find the specific information you're looking for. Back in September 2019, we went live with a new feature that added many new Map Overlays in CSDatum. These overlays are maps from sources like FEMA, DEP, PennDOT, and many others. This data is great but when it's combined with your own municipality's overlay map data, you can end up with a menu of overlays longer than your arm.
For example, look at East Hempfield Township's CSDatum overlays below. What you can see in the screenshot only 1/3 of them. Try scrolling through that list to find the specific one you're looking for--Not fun! But do you see that search box at the top? That's new and a very quick way to hone in on the overlay that you're looking for.

Let's say I want to find some floodplain information and add it to my map. I could scroll through the whole menu looking for something related to floodplains, or I could simply type "flood" into the search box and reduce the Overlays menu to a very manageable list of only two! Much easier!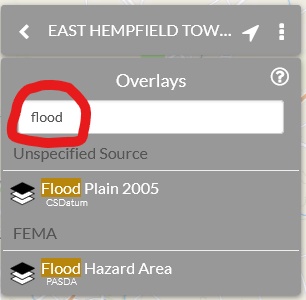 Updated People Page
We've got a small but growing team of folks working to make sure that CSDatum and Permit Manager never feel like they're "too much" or "too complicated." We're always quick to respond to emails and phone calls for help or guidance. Our contact form will go to the whole team, ensuring that someone will be able to reply as quickly as possible. You can also contact any of us directly. We're always happy to help.
If you want to get acquainted or reacquainted with any of the software team, check out our updated Our Team page. Some of us dressed up for our photos and others dressed down, but nonetheless, it may help you put a face with a name as we continue to collaborate virtually.
Grant & Nutrient/Conservation Plan asset
Grant Asset
Thanks to the very good suggestion from our friends at West Hempfield, you can now track your "grant" activity directly in CSDatum! Track basic information, draw the project area on your map - and most important, upload all of those attachments and invite collaborators to your CSDatum account. Keep everything in one place!
Very quickly - here's how to start adding them.
1. Look for the "Add Layer" icon in your map legend.

2. Click on the Municipal Icon. Please note, this is also how to add other new content that is available within our layer system.

3. Click on the Grant icon.

4. Choose your preference of a Point or a Polygon - and then click on the map at your desired location.

5. Enter a project name, issuer (like DEP), program (like Growing Greener), etc - hit save, and you're done!

And you might have noticed from Step #3, but we also made a "Nutrient/Conservation Plan" asset available for our rural clients to help track farms within their municipality. We built this with the help of Salisbury Township in Lancaster County many months ago - but we wanted to open it up for everyone.
Here's a screenshot of the information you can manage - and just like with Grants, it's a point/polygon feature under the Municipal layer.

That's it for now - and enjoy these two new features!