New: Custom Owners and Filtering
Hello all - and we hope you had a great Memorial Day weekend. Summer is just around the corner - and that means there's local college students out there looking for quality internships. Consider hiring one and setting them loose with some projects in CSDatum; we have many examples of geography majors from Millersville, Shippensburg, F&M, etc making a real impact in just a few short months.
Speaking of interns, our very own Kyle Jones (York College - Computer Science) has done a fantastic job with this new update. He hails from Stewartstown in York County and we're happy to have him aboard. He wrote all the code for this improvement and the following "tutorial" was also written by him.
---
Custom owner names with map filtering is finally here! This means that you can now assign a custom owner name to each of your assets. Just as important, you can now apply a map filter with these custom names across all layers and assets.
Custom Owner Names
Instead of the default owner names (Municipal, State, Private & Joint), you may now enter your own name for any asset. A good example of this? Many of you have mapped or located inlets, streets, sewer pipes or manholes just outside your municipal boundary. You don't own them - but it's probably a good idea to know where they are. Before, you had to classify them as "Municipal", which lumped them into YOUR ownership category and forced you to leave a note to differentiate. This was also difficult for Sewer or Water Authorities that span many municipalities. No longer!
Changing the owner is the same as before, simply edit the 'Owned By' field in the general section of an asset's data.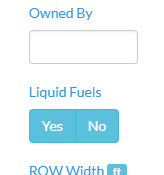 This field is considered a "type-ahead" which means that after you type "PennDOT" or your Municipality name once - it will be available as an option in every Asset afterwards. Take care to consistently and accurately use this list.
Filtering
Our updated map filter (available by pressing the three vertical dots, then pressing the "Filter" button, as shown in the visual below) allows you to filter the features according to their owner name OR abandoned status.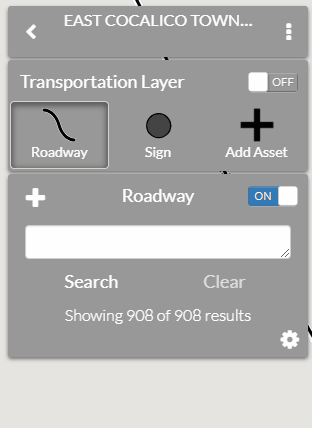 As you can see in the visual, the owner filter options are auto-populated with the names entered in your various assets. You may also filter by the abandoned status of those assets. If you haven't used the abandoned feature before - it allows you to preserve the data and location of your old infrastructure - but adjusts the color transparency of the line or point on your map.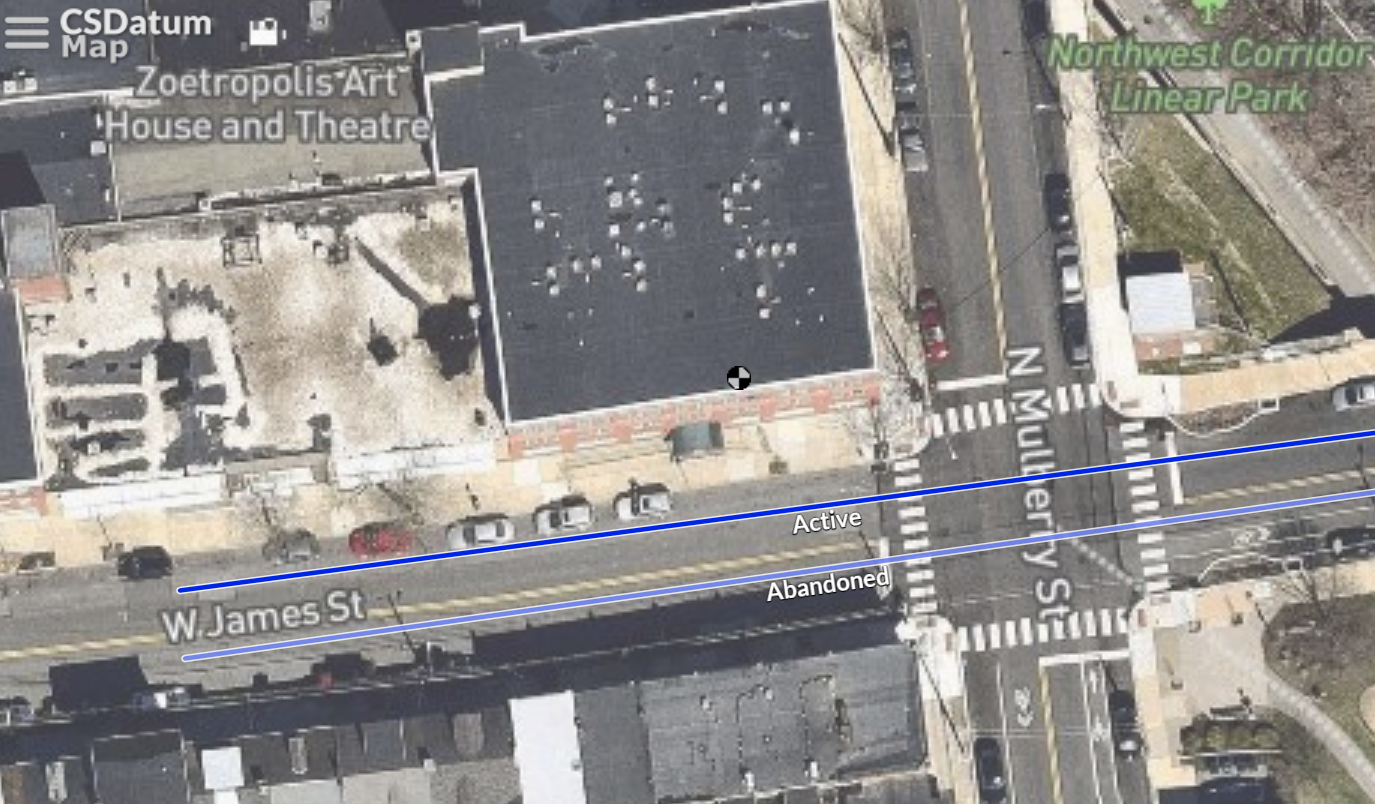 Just select the filter options that you want to apply, click "Filter", and you'll immediately see the filter applied. A key note, this will filter every layer that you have turned on, so it's a great way to quickly view EVERYTHING that one or multiple owners are linked to.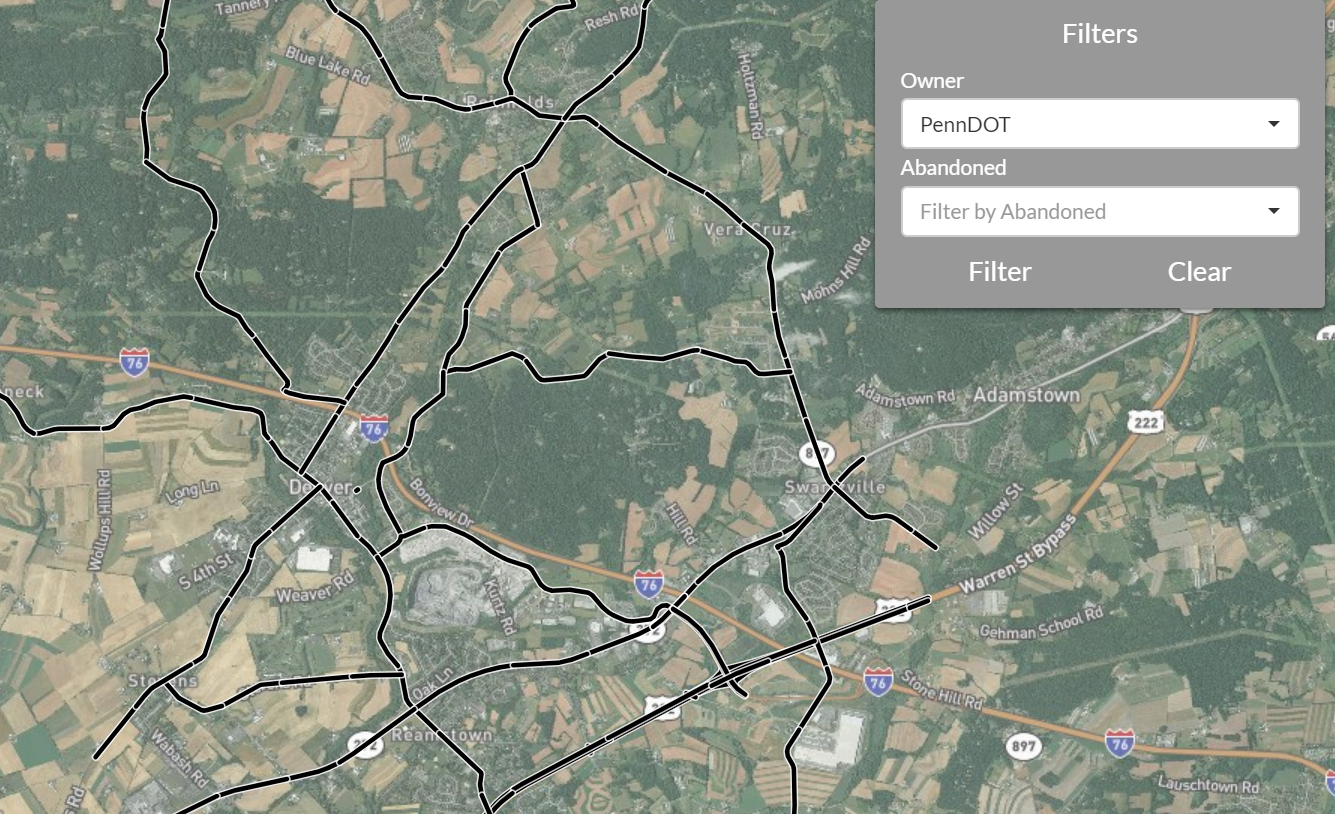 We recognize many of you only have your local roads (or stormwater or sewer, whatever) added. If you have other mapping that you would like added to your account - please let us know!
More on our Aerial Imagery
Clouds in your Imagery?
No, that's not a lyric to a scrapped Carly Simon song - but unfortunately for some of you, you're not being vain - this song IS about you. Our newest imagery set was LARGELY cloud free - but we've noticed a few areas on the fringes of South Central PA that were less than ideal.
We'll keep looking for better imagery - but we wanted to give you an immediate solution. Starting today - you can quickly toggle between our old and new imagery layers. This should help with the clouds; as Version 1 was cloud-free. It might also be helpful to see the changes over the last 4-5 years. We will continue to archive our imagery data as we acquire newer options.
Just look under the 'More' section of our existing 'Base Layer' menu item.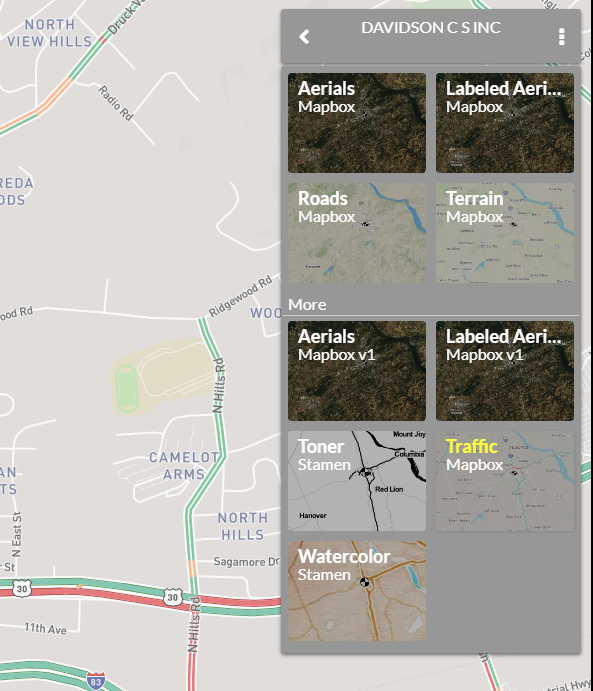 Terrain and Traffic Maps
Since we were revising the menu - we went ahead and added two more basemap options.
The most functional is the Terrain map, which displays topographic contouring (10m increments). It's not as precise as some of our LIDAR overlays - but it's very fast and easy. For example, if you need to quickly determine which way stormwater is falling off a site, this might be all you need.
The 2nd is a traffic map from Mapbox. This map will refresh every 8 minutes and indicate traffic speed and congestion.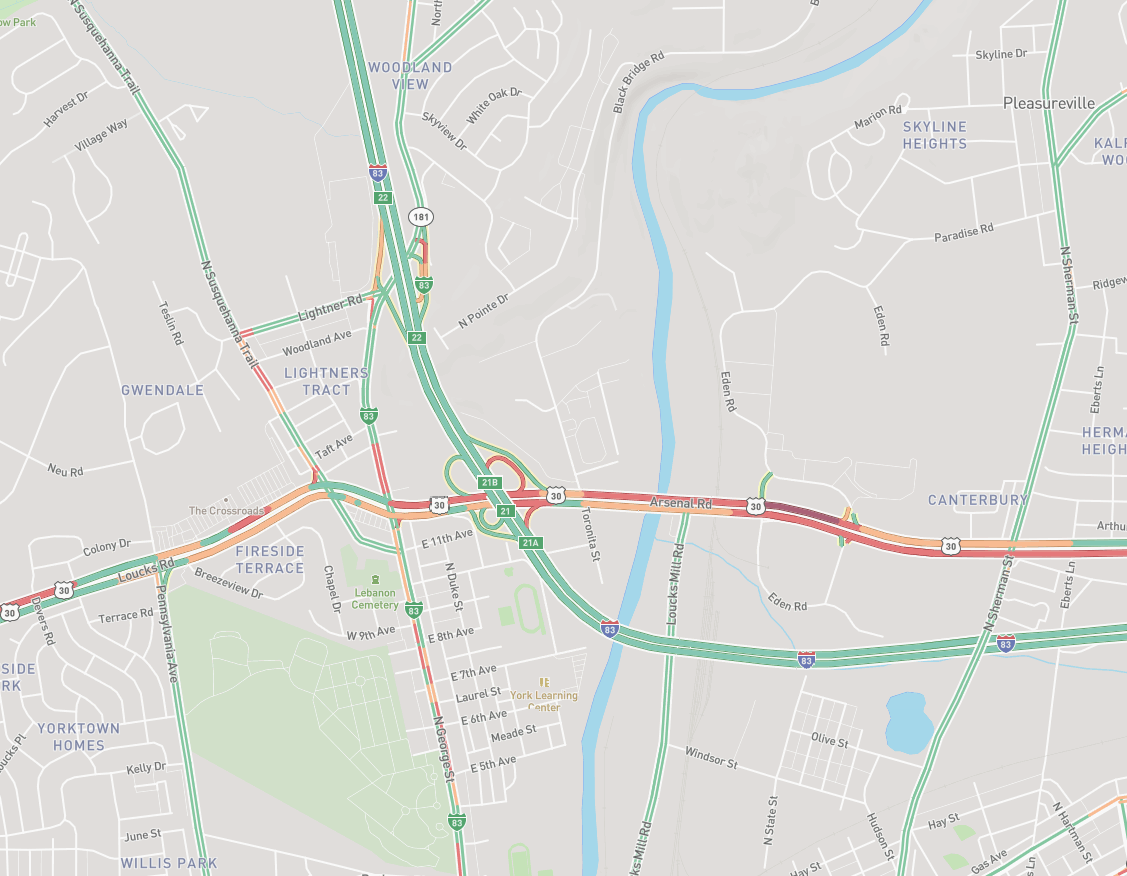 One final note about our new satellite imagery - it appears that in some areas, the mapping has shifted from 2 to 5 feet away from the old location on V1. From what we've determined, this is due to the angle in which the imagery was obtained. We're looking into ways to correct this discrepancy.
If you've mapped your system based on our old imagery and this shift troubles you; I suggest setting the V1 layer as your default setting. Just like it was cloud-free, it was also taken from an angle directly overhead.
As always, thanks for your feedback!
FINALLY - New Aerial Imagery!
Updated Aerial Imagery
Our imagery provider, Mapbox, just refreshed the mapping in our region. The 'update' of our imagery is a conversation I've had with many of you - and I appreciate your patience and understanding. This new set appears to have been taken within the last year and the quality is exceptional.
If you're familiar with the new Belmont shopping center going up in Lancaster - here's what CSDatum looked like last week (I'm guessing the imagery is 4 or 5 years old).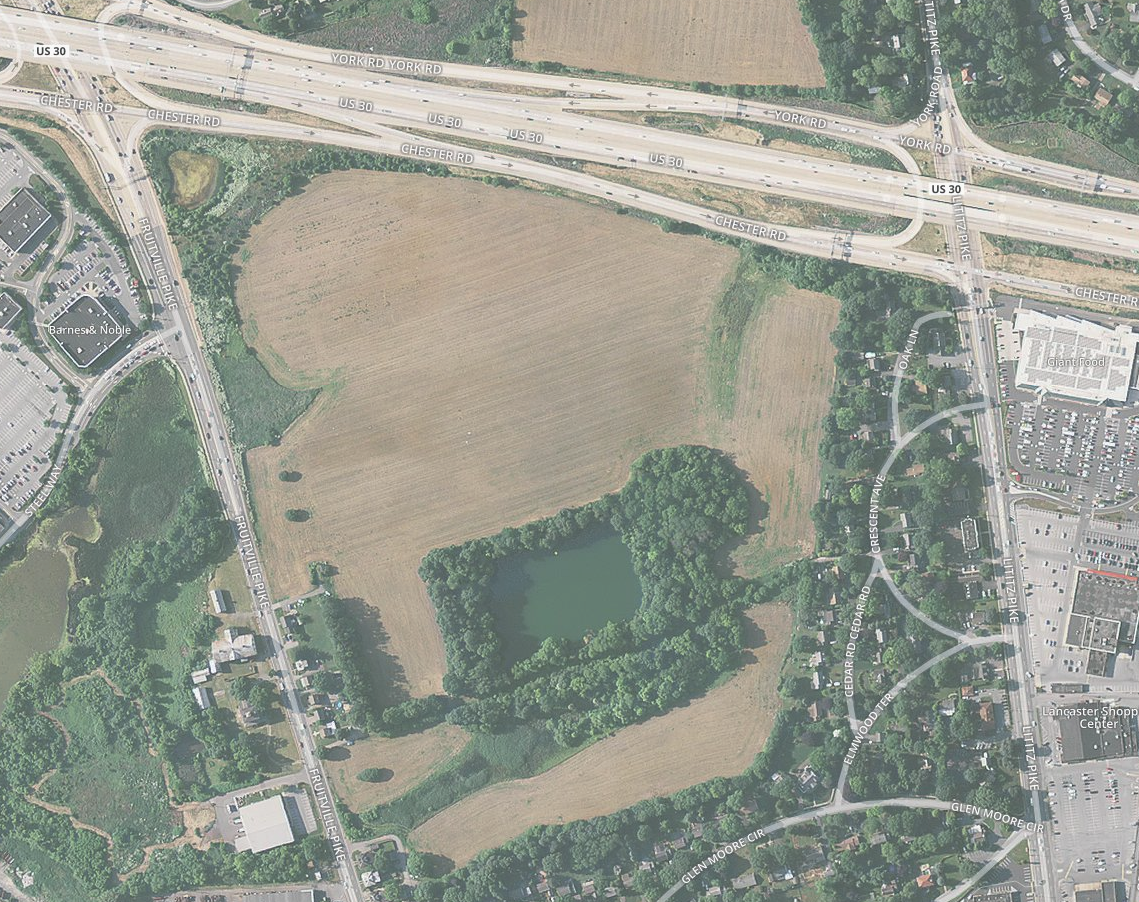 Here's what it looks like today.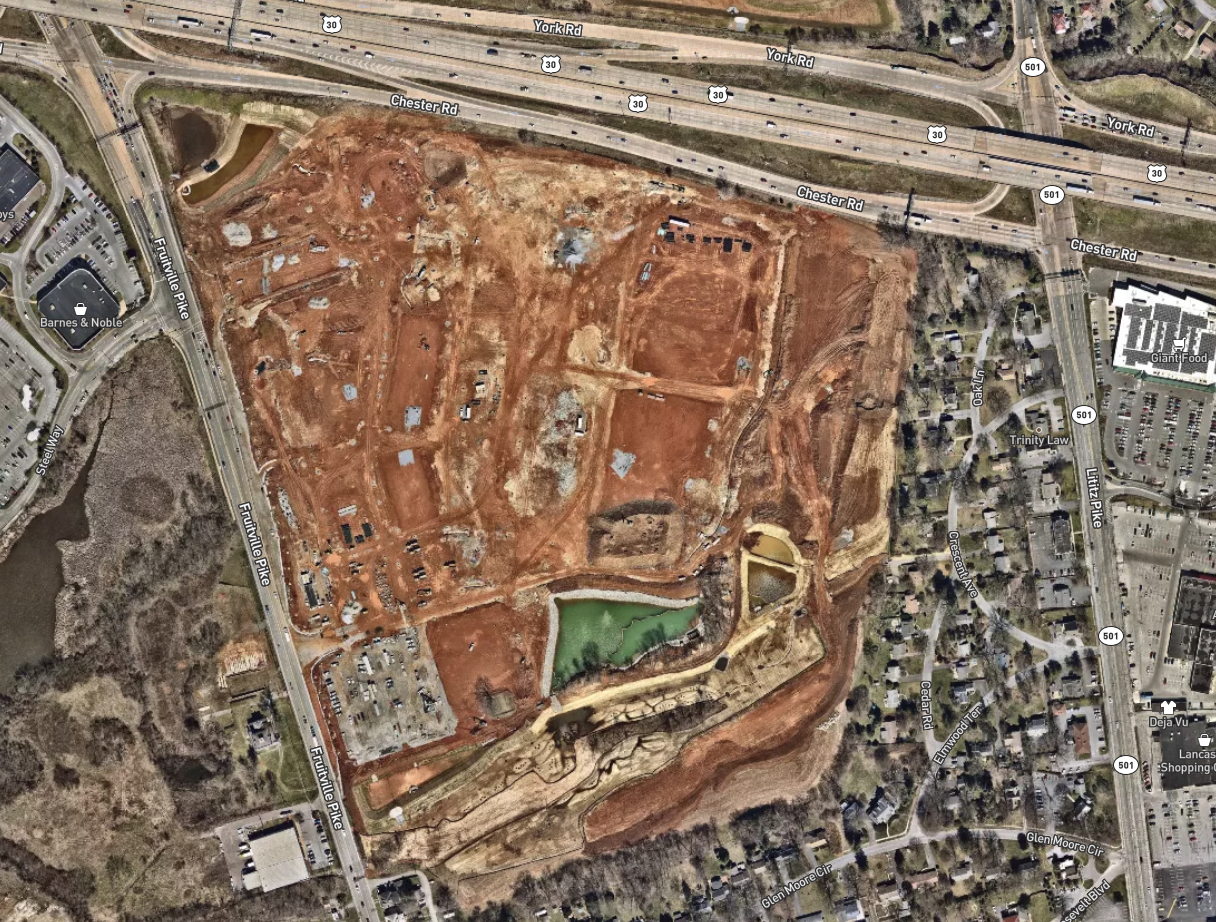 Much newer, better coloring and much sharper. I was able to zoom in several areas in Franklin, Adams, Dauphin, Lebanon, York, Cumberland and Lancaster and find storm inlets on a roadway that were previously blurred.
Of course, the new Target and Chick-fil-A aren't shown above - but this is a huge improvement (in imagery, that is - I'm not getting sucked into a land development debate). Enjoy and please let us know if you run into any issues!
PSATS - 96th edition
As always, C.S. Davidson will be at the PSATS Trade Show in Hershey next week. Consider checking out our coworker, Jeff Shue at his presentation on Tuesday, April 24, 1:15 – 2:25 pm on "Creating Community Credibility". He's clearly a sucker for alliteration, so please sitand ask him questions in that same style.
We'll be at the Booth #186 all three days - and our good friend Cork Shunk from CS-GraphX will also be there. Hope to see you there!